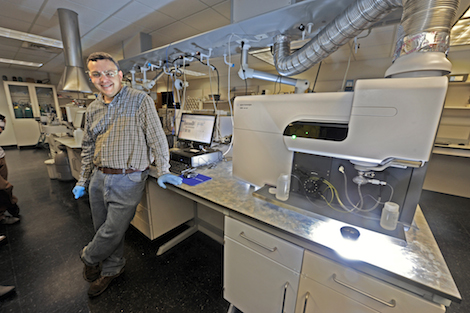 PHOTO RELEASE
LAKE SUPERIOR STATE UNIVERSITY
*************************
SAULT STE MARIE, MI - Lake Superior State University chemistry professor Derek Wright is all smiles about his department's latest acquisition, an Agilent 4200 microwave plasma atomic emission spectrometer.
The instrument causes samples to glow as a bright, hot gas (called a plasma) that shines in narrow color bands depending upon what elements and chemical compounds are present in what amounts.
Atomic emission spectroscopy is a powerful tool for monitoring environmental quality, such as when LSSU's lab facilities helped Toledo, Ohio, recover from an outbreak of blue-green algae in its municipal drinking water.
The MP-AES joins other instruments in Lake Superior State's chemistry lab portfolio that use heat and magnetism - as well as DNA's uncanny ability to be copied - to explore everything from crime scene forensics to materials useful in solar cells.
Run a Web search on "LSSU physical sciences" to read about those areas of study at Lake State.
*************************
(Photo: LSSU/John Shibley)