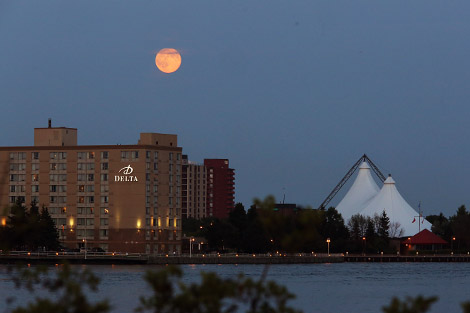 NEWS RELEASE
MINISTRY OF EDUCATION
***************************
Employers from Sault Ste. Marie and Barrie were recognized at the Ontario Cooperative Education Association conference for helping local students gain hands-on learning opportunities for their future careers.
The following two employers have received Employer Champion Awards for providing high school students with valuable work experience, including career talks, classroom visits, and co- operative education placements:
Royal Victoria Regional Health Centre
Delta Sault Ste. Marie Waterfront Hotel and Conference Centre.
Experiential learning is helping students achieve success, a key goal of Ontario's renewed vision for education.
Other goals of the vision include: ensuring equity, promoting well-being and enhancing public confidence.
Supporting a world-class education system is part of the government's economic plan for Ontario.
The four part plan is building Ontario up by investing in people's talents and skills, building new public infrastructure like roads and transit, creating a dynamic, supportive environment where business thrives and building a secure savings plan so everyone can afford to retire.
Quotes
"We're proud to acknowledge employers who have made a lasting, positive impact on the lives of many young people in their communities. By providing a wide array of meaningful workplace learning opportunities, together, we are helping our students find their passion and develop the skills they need for their future careers."
— Liz Sandals, Minister of Education
"For the majority of students, having a placement with us not only confirms their career choice, but engages them to pursue their postsecondary career with the hope that they might return. In fact, once their placement has ended, many students return to volunteer and help support the hospital and community."
— Helen Sarris, volunteer resources advisor, Royal Victoria Regional Health Centre.
"We are so proud to be able to offer this opportunity to the students. The skills they acquire prepare them for the next level of learning needed to become a hospitality professional. It will also give them a significant advantage when searching employment, even outside of the hospitality sector."
— Kevin Wyer, general manager, Delta Sault Ste. Marie Waterfront Hotel and Conference Centre
An estimated 40,000 employers across the province provide over 80,000 high school students with valuable work-related learning opportunities through numerous activities and programs, including Ontario's Co-operative Education programs.
Approximately 42,000 high school students are enrolled in Specialist High Skills Major programs this year, each one spending over 220 hours in co-operative education work placements in their sector of focus.
Ontario's five year graduation rate has risen to 83 per cent, which is 15 percentage points higher than the 2004 rate of 68 percent.
The percentage of students graduating in four years is now 75 percent, up from 56 percent in 2004.
***************************