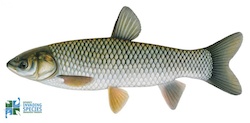 NEWS RELEASE
INVASIVE SPECIES CENTRE
*************************
Learn more about destructive Asian carps by registering and participating in the Invasive Species Centre's "Asian Carp 101" webinar this Thursday, October 9 at 10 a.m.
Becky Cudmore, Senior Science Advisor and Manager of the Asian Carp Program at Fisheries and Oceans Canada will discuss the biology of these invasive fishes and the risk they pose to Canadian waters.
She will describe Canada's Asian Carp Program and what the Governments of Canada and Ontario are doing to protect the Great Lakes from this threat.
"Asian Carp" refers to four species of carps (Bighead, Black, Grass, Silver) that are native to China and southern Russia.
All four species have escaped into the wild in North America and three have established self-sustaining populations, particularly in the Mississippi waterway system.
If they were to establish themselves in the Great Lakes basin, invasive Asian carps would pose a serious threat to native species and overall biodiversity, to recreational and cultural activities, and to the Great Lakes economy where the commercial, recreational, and aboriginal fisheries are valued at more than US$7 billion annually.
Future webinars in this series will highlight Canadian scientific research for containment and control of Asian carps and Environmental DNA (eDNA) testing, Canadian strategies and monitoring, and work being done to control Asian carps in the United States, including information on the Chicago Area Waterway electrical barrier.
"Enhancing our collective knowledge of Asian carps and their impacts will ultimately contribute to the prevention of Asian carps in the Great Lakes basin. The need to protect our environment, economy and social well-being from this threat underscores the importance of the partnership between Fisheries and Oceans Canada and the Invasive Species Centre to work together to ensure that up to date information on Asian Carp and developments in Canada are made easily and readily accessible to Canadians," explained Dilhari Fernando, Executive Director of the Invasive Species Centre.
Go to the Invasive Species Centre website at www.invasivespeciescentre.ca to sign up for this webinar and to receive information about future Asian Carp Canada webinars.
About the Invasive Species Centre
The Invasive Species Centre is a Canadian not-for-profit organization that builds partnerships and supports collaborative projects in natural and social science, management and outreach to protect Canada's forests, cities, fields and waterways from the damaging effects of invasive species.
The Invasive Species Centre is partnering with Fisheries and Oceans Canada on the Asian Carp Canada Project which will produce a webinar series and focused on the threat of Asian Carp to the Great Lakes.
*************************