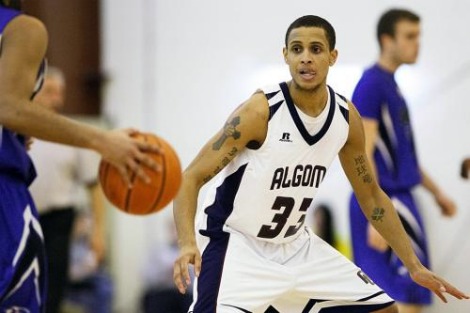 Jovain Wilson of the Algoma University men's basketball team has been named the CCAA player of the year.
A two-time OCAA player of the year, Wilson is currently third in career scoring in the OCAA and was second this season in points scored in the OCAA. He was seventh nationally in points-per-game.
"Jovain continuously demonstrates the skills of a true leader," says Algoma Thunderbirds head coach Thomas Cory in a release. "He's competitive, yet demonstrates sportsmanship even after a tough loss."
Added Jeff Harris, CCAA men's basketball convenor: "His stats are solid and his team is enjoying the best year they've ever had. His shooting percentage is steady, his play is efficient, and he has a calming influence out on the court."
Wilson accepted the award during the CCAA Championship Awards Banquet on Mar. 14.
Wilson was also named a CCAA All-Canadian.
Photo courtesy Algoma University