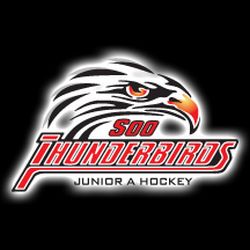 The Soo Thunderbirds have brought in a pair of new assistant coaches.
With an opening after the departure of Marty Fortino due to family and personal commitments, the team has decided to bring in Jeremy Rebek and Kyle Brick as assistant coaches to work alongside head coach Jordan Smith and returning assistant Ryan Maunu.
"We're really excited to get them and they're going to be key assets to our staff," said Thunderbirds coach Jordan Smith. "They're really going to help out Ryan and I with the day-to-day operations. We haven't figured out roles yet and that's something we're going to get into in the next couple of weeks."
Rebek, a native of Sault Ste. Marie, spent three seasons in the Ontario Hockey League as a player with the Owen Sound Platers before spending part of a season with Laurentian University. After 11 games with Laurentian, Rebek moved on to professional hockey, playing in various European leagues as well as some time in the American League, ECHL and Central League in North America.
Brick has been coaching at St. Mary's College locally where he led the Knights to a perfect 20-0 record in the regular season and a playoff championship in the 2013-14 season.