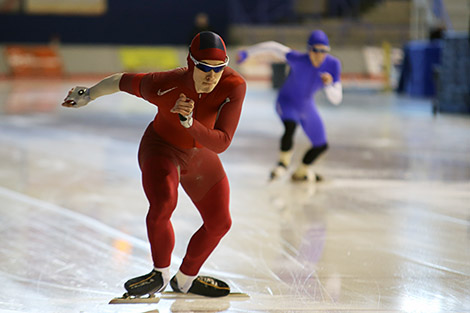 Sault Ste. Marie has been producing a number of high end athletes for international competition recently and Gary Trembinski hopes to add to the list.
Trembinski, currently enrolled in the University of Calgary, where he lives and trains, hopes to qualify for the 2018 Winter Olympics in speed skating.
Trembinski has been involved in speed skating since August 2010 when he first got involved with the Sault Ste. Marie Speed Skating Club. The experience was a very new one for the former hockey player. Trembinski had spent the better part of the previous season trying to recover from shoulder surgery in 2009.
Following a second dislocation that would require surgery and six months of rehabilitation to possibly get back into the sport again, Trembinski, through the advice of his father Gary Sr. chose to pursue another sport, which wound up being speed skating.

"Since my first season with Ian Overman and the SSM club, I grew to love the sport and dedicated my life to it," said Gary Jr. "If I don't work for it now, I'll never get another chance to try it again."
Since first stepping on the ice as a speed skater, Trembinski has set personal bests in the 500m (38.76 seconds), set in an event in Calgary in November 2013 and 1000m (1:20.49), set earlier this year, also at an event in Calgary. Recently, he posted a time of 38.77 seconds at the North American Championships on Jan. 18 in Calgary. His time put him 12 among 32 skaters in the competition.
Trembinski has competed in events alongside another Sault Ste. Marie native in Richard MacLennan, another aspiring Olympian from the area,
Trembinski has a lighter load at school than your typical University student. Studying phycology, Trembinski is enrolled part-time in school while during the year.
"Most skaters are in school part time, as well as myself. I currently take two courses a semester and I'll also be starting an online class as well to give me more flexibility while I train," Trembinski said.
Following is a full release from Trembinski on his skating exploits with some added details on himself and his training.
****
Gary Trembinski has set two new personal best times in two distances, the 500m and the 1000m this season, knocking a half a second off both times.
In only his second full season of speed skating, Gary has also qualified to race on the national circuit, the Canada Cups.
He has travelled to Quebec City earlier in the season and will be travelling to Saskatoon, Saskatchewan at the end of the month for national competitions.
Gary continues to excel in the new sport he has taken on.
He lives and trains in Calgary, Alberta where he attends the University of Calgary with a major in Psychology.
His goal is to make the 2018 Winter Olympics in Pyeongchang, South Korea.
Gary has Team Trembinski Speed Skating t-shirts for sale for $20.
If you are interested in purchasing one, please visit www.GaryTrembinski.com to get in contact.
If you would like to make a donation to help cover the high training costs, you can also do that via www.GaryTrembinski.com, just click the donate link at the top of the page.
Gary would also like to thank his sponsors Ricardo's Big Slice Pizza and Metallo's Mini Mart as well as his parents, family and friends for all their help and support.
****