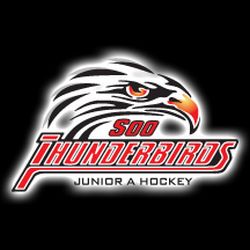 They got a scare but the Soo Thunderbirds winning streak is still intact.
The Thunderbirds were forced to overcome a 2-0 deficit to beat the Elliot Lake Bobcats 3-2 and extend their winning streak to 22 games and their home winning streak to 25 games.
Mike Gambino and Brett Wagner staked the Bobcats to a 2-0 lead in the opening period only to see the Thunderbirds score three unanswered goals en route to the win.
Darcy Haines got the Thunderbirds on the board in the opening period to send the game into the first intermission with the locals trailing 2-1. Joey Miller proceeded to tie the game in the middle stanza, which set the stage for Gavin Burbach's shorthanded game-winner in the third period.
Offensively, Haines picked up a pair of assists in the win as well.
With the goal, Burbach extended an eight-game goal streak in the process.
Thunderbirds goaltender Joel Horodziejczyk stopped 36 shots to pick up the win. Horodziejczyk has not lost in 22 consecutive starts this season.
With the win, the Thunderbirds now have a league-leading record of 40-4-0-2, good for 82 points and an 11-point lead over the second place Kirkland Lake Gold Miners.
The Thunderbirds now prepare for another meeting with the Bobcats as the two teams meet at the Rankin Arena on Wednesday night in a 7 p.m. start. The game is a home game for Elliot Lake.