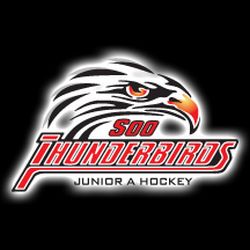 The Soo Thunderbirds opened their pre-season schedule on Saturday night as they traveled to Elliot Lake to take on the Wildcats in Northern Ontario Junior Hockey League action.
Matt Pinder lifted the Thunderbirds to a 3-2 overtime win over the Wildcats.
Pinder scored 59 seconds into the extra frame to lift the Thunderbirds to the win.
Jacob Porco scored a pair of goals for the Thunderbirds in the win while rookie Matt Caruso had a pair of assists in the win.
Goaltender Mario Culina made 28 saves for the Thunderbirds.
Nathan Campbell had a goal and an assist for Elliot Lake while Alec MacKenzie also scored in the loss.
The Wildcats dressed three goaltenders in the game. A.J. Smith got the start and stopped all 10 shots he faced in the opening period while Tristan Hanna stopped nine of 10 shots in the second period. Allen Menary stopped 13 of 15 shots after entering the game at the start of the third period for the Wildcats.
The Thunderbirds complete their exhibition schedule with a pair of games against the North American Hockey League's Soo Eagles on Sept. 5 and 6 at Pullar Stadium in Sault Ste. Marie, MI.