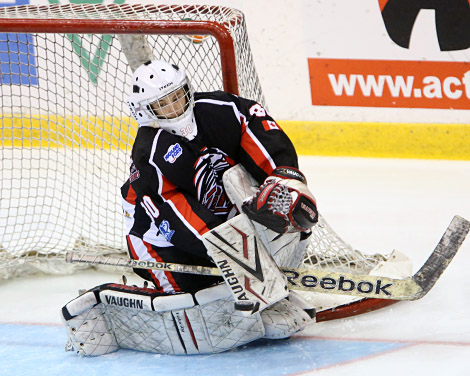 The Soo Thunderbirds announced on Wednesday afternoon that they have dealt the Northern Ontario Junior Hockey League's reigning most valuable player.
The Thunderbirds have traded goaltender Joel Horodziejczyk to the Central Canada League's Pembroke Lumber Kings.
In addition to a player development fee, the Thunderbirds receive a pair of forwards, both of which have ties to the north.
In the trade, the Thunderbirds have acquired forwards Ryan Erickson and Jake Staples.
Erickson, from Sudbury, played two seasons in Pembroke. In 84 games with the team, the 6-foot-1, 190-pound forward had 32 points. Erickson posted two goals and 13 points in 43 games this season.
In Staples, the Thunderbirds get a former point-per-game player in the NOJHL. Prior to joining the Lumber Kings, Staples played for the NOJHL's North Bay Trappers. The younger brother of former Soo Greyhounds forward Dylan Staples, Jake had three goals and 17 points with the Lumber Kings in 38 games after being acquired in a trade with the Trappers. The trade united the Staples brothers as Dylan was already a member of the Lumber Kings.
Prior to the trade, Jake Staples had seven goals and 15 points in 15 games with the Trappers.
Both Erickson and Staples are 18.
In a release, Thunderbirds General Manager Kevin Cain said that Horodziejczyk had requested the trade.
File photo: Kenneth Armstrong/SooToday.com