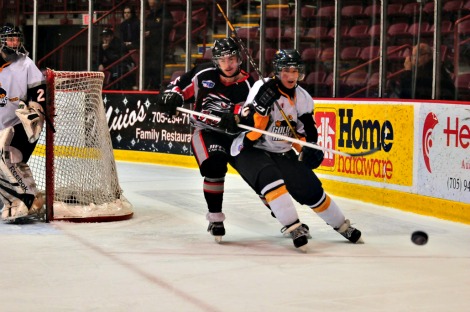 After a four game road trip, the Soo Thunderbirds returned home on Sunday afternoon and skated to a 2-2 tie with the Kirkland Lake Gold Miners at the Essar Centre.
The Thunderbirds needed a last second goal just to get to overtime after Kirkland Lake scored late in the second period to take a 2-1 lead.
Adam Ritchie converted a chance in tight with 16 seconds remaining to tie the game and send it to overtime. Derek Battagin had the other goal for the Thunderbirds in the tie. Battagin's goal came early in the first period and just 1:05 after Kirkland Lake opened the scoring.
Connor McNally opened the scoring for Kirkland Lake while Jean-Michel Naud also scored for the Gold Miners.
Both goaltenders were solid in the tie. Thunderbirds netminder Joel Horodziejczyk stopped 29 shots, including stops in the second overtime period while the teams were playing three-on-three. Horodziejczyk stopped Ethan Strong in the opening moments of the period and Jeremy Picard-Fiset later in the frame. The stop on Picard-Fiset came just after Thunderbirds forward Gavin Burbach missed the net on a breakaway at the other end of the ice.
Kirkland Lake goaltender Chris Komma was solid as well, stopping 41 shots in the tie.
Next up or the Thunderbirds is a road game in Sudbury against the Nickel Barons on Wednesday night. The team returns home to take on Abitibi on Saturday night in a 7:30 start at the Essar Centre.
Photo courtesy Jim Egan