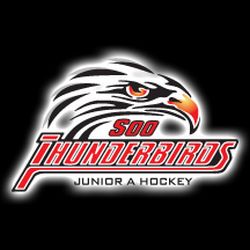 The latest national rankings are out and the Soo Thunderbirds have moved up again.
After being ranked second in last week's CJHL national rankings, the Thunderbirds have overtaken top spot.
Thanks to a 22-game winning streak, the Thunderbirds jumped into top spot while the Fort McMurray Oil Barons of the Alberta League dropped from top spot last week to third this week. Spruce Grove (AJHL) jumped from fifth last week to second. The Selkirk Steelers (MJHL) were ranked fourth while the Carleton Place Canadians (CCHL) rounded out the top five.
Full Rankings (last week's ranking in brackets)
Soo Thunderbirds – NOJHL (2)
Spruce Grove Saints – AJHL (5)
Fort McMurray Oil Barons – AJHL (1)
Selkirk Steelers – MJHL (3)
Carleton Place Canadians – CCHL (4)
Fort Frances Lakers – SIJHL (7)
Aurora Tigers – OJHL (18)
Powell River Kings – BCHL (15)
Kingston Voyageurs – OJHL (7)
Brooks Bandits – AJHL (12)
Langley Rivermen – BCHL (10)
Dauphin Kings – MJHL (HM)
Yorkton Terriers – SJHL (NR)
Battlefords North Stars – SJHL (HM)
Kirkland Lake Gold Miners – NOJHL (14)
Thunder Bay North Stars – SIJHL (13)
Kindersley Klippers – SJHL (16)
Les Pantheres de Saint Jerome – LHJAAAQ (17)
Weeks Crushers – MHL (NR)
Miramichi Timberwolves – MHL (NR)

Honourable Mention: Prince George Spruce Kings (BCHL), Drumheller Dragons (AJHL), Portage Terriers (MJHL), Toronto Lakeshore Patriots (OJHL), Smiths Falls Bears (CCHL)