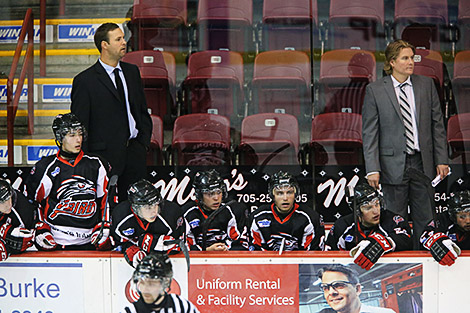 The Soo Thunderbirds were back on the ice on Sunday night for game two of their Northern Ontario Junior hockey League semi-final series against the Abitibi Eskimos.
After a 5-4 win over the Eskimos on Saturday night to open the series, the Thunderbirds skated to a 4-1 win at the Essar Centre to take a 2-0 series lead as they head to Iroquois Falls for games three and four.
Jaren Bellini of the Thunderbirds and Kevin Walker of the Eskimos traded goals in the opening period before Eric Hillock scored at 13:51 of the second period to put the Thunderbirds ahead for good in a game that saw them out-shoot their opponent by a 42-16 margin, including 15-2 in the opening period.
Darcy Haines scored a pair of third-period goals to seal the win for the Thunderbirds.
Thunderbirds goaltender Brian Kment stopped 15 shots in the win while Bellini also had two points, picking up an assist to go along with his first period goal.
Abitibi goaltender Brody Wagner stopped 38 shots in the loss.
Game three is Wednesday night with game four set for the following night in Iroquois Falls. Puck drop on both nights is 7:30 p.m.
If necessary, game five is back at the Essar Centre on Apr. 5.
In the other semi-final series, the Kirkland Lake Gold Miners opened up a 2-0 series lead over the Espanola Rivermen thanks to a 2-1 win in Espanola on Sunday night.
Steven Babin's goal was the eventual game winner for the Gold Miners while Austin Rust also had a goal in the win. Robert Smythe scored a power play goal in the final minute of action for the lone marker for Espanola. Game three in the series is Tuesday night in Kirkland Lake.
File photo by SooToday.com's Kenneth Armstrong