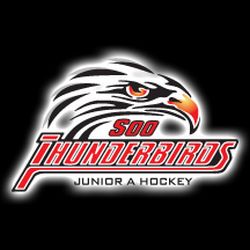 The Soo Thunderbirds opened up a 2-0 series lead on the Abitibi Eskimos on Saturday afternoon thanks to a 7-5 victory at the Essar Centre.
Brandon Warmington led the way offensively for the Thunderbirds with four goals in the win. Darcy Casola chipped in with three assists for the locals, who jumped out to a 4-0 lead through one period en route to the win.
Derek Battagin and Adam Ritchie added a goal and an assist for the Thunderbirds in the win. Dallas McLaughlin set up a pair of goals in the win. Daniel Pyymaki also scored for the Thunderbirds. Goaltender Steven Dombrowski stopped 31 shots in the win.
"Give Abitibi full marks, they worked hard, even when they were down they battled," said Thunderbirds GM/Coach Kevin Cain. "They pushed us around a little bit and they deserved to be there at the end."
Justin Holliday scored three times for the Eskimos in the loss. Marc Dube and Nick Fountain also scored. Goaltender Jeremy Laux got the start for Abitibi but was pulled after giving up a goal on the Thunderbirds first shot of the game just 1:11 into the contest. Jackson Winkler came in and stopped 22 shots the rest of the way.
"We lost the two games here but it's not the end of the world," said Abitibi coach Paul Gagne. "We've lost many games where the morale was not this good. We know we're facing a good hockey club but we have to control what we have to do and hopefully rattle them a bit. After that, you never know what could happen."
The series now shifts to Iroquois Falls for games three and four set for Mar. 23 and 24.
In other NOJHL playoff action on Saturday night, the Sudbury Nickel Barons beat the Elliot Lake Bobcats 7-4. Darcy Haines had a goal and three assists for Sudbury in the win. David Lazarus and Cory Vaillancourt had a goal and two assists each in the win. Andre Comtois and Martin Jolicoeur each added a goal and an assist while August Jarecki and Bradley Bell also scored. Brian Hennessey had a goal and two assists for Elliot Lake while Steve Gaul set up three goals. Henry Berger, Dustin Cordeiro and John Follmer also scored for Elliot Lake in the loss. Sudbury currently leads the series 1-0.
In Kirkland Lake, Steven Babin scored a pair of goals as the Kirkland Lake Gold Miners took a 2-0 series lead on the Blind River Beavers thanks to a 4-1 win Saturday night. Royce King and Tanner Lafrance also scored for Kirkland Lake. Tyson MacLeod had the lone goal for Blind River.