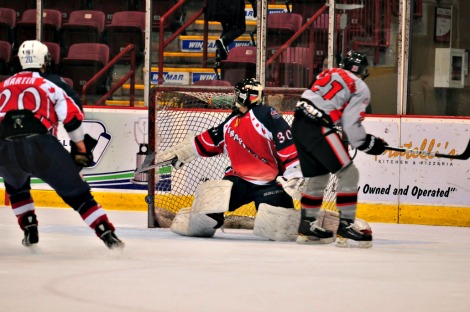 The Soo Thunderbirds found themselves back on home ice over the weekend as they continued to battle for top spot in the Northern Ontario Junior Hockey League standings.
Adam Ritchie scored a pair of goals to lead the Soo Thunderbirds to a 6-1 win over the North Bay Trappers on Saturday night
The win pulled the Thunderbirds two points ahead of the Trappers in the Northern Ontario Junior Hockey League standings at the time.
Anthony Miller had a goal and an assist in Saturday's win. Tyler Sehovic and Joey Miller added two assists each in the win. Jeremy Solomon, Yan Kalashnikov and Gavin Burbach also scored for the Thunderbirds. Goaltender Joel Horodziejczyk stopped 29 shots. Beau Orser scored the lone goal for North Bay in the loss.
"We started off a little slow being down 1-0 in the first period," said Thunderbirds coach Warren LaVoy. "We put everything together in the second period. We played to the systems and did what we needed to do."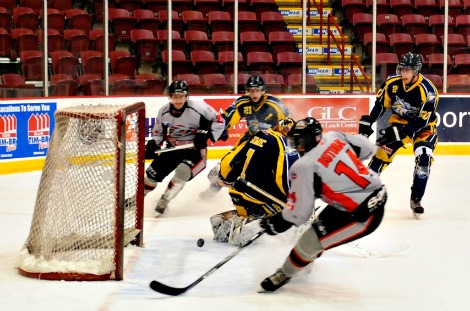 On Sunday, North Bay pulled back on even terms with the Thunderbirds in the standings with a 4-2 win in Blind River.
The Thunderbirds then got the job done later in the day but not without some added pressure, beating the Elliot Lake Bobcats 6-5 in overtime.
Dallas McLaughlin scored his second goal of the night ten seconds into the second overtime period to give the Thunderbirds the win. Anthony Miller chipped in with two goals and an assist in the win. Adam Ritchie had two goals and an assist. Defenceman Michael Caruso also had a goal in the win. Goaltender Joel Horodziejczyk stopped 12 of 15 shots before being pulled after two period. Brian Kment, who played for the Soo North Stars in their Great North Midget League game against Sudbury earlier in the day stopped seven shots the rest of the way in picking up the win.
Brian Henessey scored four times in the win though was only credited with three goals. Jared McElroy-Walker had the other goals, but was credited with two. Goaltender Cory Simic stopped 36 shots.
"Elliot Lake came to play hockey and our guys had other things on their mind," said LaVoy.
Next up for the Thunderbirds is the beginning of five-straight games on the road starting in Sudbury against the Nickel Barons on Jan. 23.
In the North American Hockey League, the Soo (Mich.) Eagles were off over the weekend. They return to NAHL action on Jan. 25 and 26 when they host Johnstown.
Photos courtesy Jim Egan