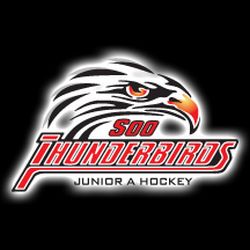 It was just five days earlier that the Kirkland Lake Gold Miners ended the Soo Thunderbirds 25-game winning streak at the Essar Centre in Sault Ste. Marie.
On Friday night, the two teams met again, this time in Kirkland Lake and the Northern Ontario Junior hockey League's top two clubs skated to a 3-3 tie in the final regular season meeting between the two teams.
The game opened up a three-game road trip for the Thunderbirds, their final road trip of the regular season before finishing with three games on home ice.
The Thunderbirds looked poised to exact some revenge on the Gold Miners, opening up a 2-0 lead in the first period. Kirkland Lake managed to rebound by scoring a pair of goals in the second period before the two teams traded third-period goals en route to the tie.
Riley Bordin scored a pair of goals for the Thunderbirds in the tie, including the game-tying goal at 17:09 of the third period. Bordin's second goal came just 43 seconds after Steven Babin scored his second goal of the night to give Kirkland Lake a 3-2 lead late.
Gavin Burbach had the other goal for the Thunderbirds in the tiw while goaltender Joel Horodziejczyk stopped 23 shots.
Samuel Wilbur chipped in with a goal and an assist for Kirkland Lake in the tie while goaltender Jeremy Pominville stopped 26 shots.
With the tie, the Thunderbirds maintain their six-point lead on Kirkland Lake atop the NOJHL standings. The Thunderbirds, with 89 points, have a record of 45-5-1-2. Kirkland Lake, with one less game played and 83 points, has a record of 39-6-1-4.
The Thunderbirds are back in action on Saturday night as their final road trip of the regular season continues in Abitibi at Jus Jordan Arena against the Eskimos. The Thunderbrids then wrap up their three-game trip on Sunday evening against the North Bay Trappers.