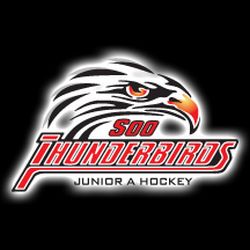 As their main tryout camp approaches, the Northern Ontario Junior Hockey League's Soo Thunderbirds have three more players committed for the 2014-15 season.
The team has received commitments from a trio of local players in forward Matt Caruso and goaltender Mario Culina, both of whom played for the Waterloo Wolves major midget team in the 2013-14 season.
Caruso, whose brother Michael is a defenceman with the North American League's Soo Eagles, finished last season with 18 goals and 46 points in 32 games before adding two goals and 10 points in 11 playoff games.
Caruso led the Wolves in goals, assists and points this season.
"He will add some needed offence to help replace some of the scoring lost with the graduation of Gavin Burbach and Darcy Haines," Thunderbirds General Manager Kevin Cain said in a release.
In 16 games last season, Culina posted a 9-4-1 record with a 1.89 goals against average and a 0.921 save percentage while splitting the Wolves goaltending duties. In six playoff games, Culina posted a 2.63 GAA and 0.899 save percentage.
The team has also announced that 19-year-old Matt Pinder will join the team for the 2014-15 season after spending the 2013-14 season with the Cambridge Winter Hawks of the Greater Ontario League.
Pinder finished second in scoring on the Winter Hawks last season with 18 goals and 42 points in 48 games.
Pinder spent three seasons with the Great North Midget League's Soo North Stars where he scored 156 points in 100 career games prior to joining the Winter Hawks last season.
The Thunderbirds main camp is scheduled to open on Aug. 15.