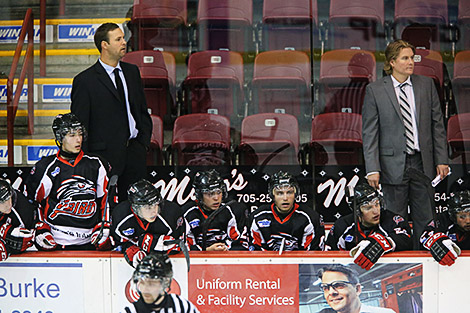 The Soo Thunderbirds bid for a second Northern Ontario Junior Hockey League title in three seasons has come to an end.
The Thunderbirds dropped a 2-1 decision to the Kirkland Lake Gold Miners at the Joe Mavrinac Community Centre in Kirkland Lake on Tuesday night. The win gives the Gold Miners their first NOJHL title after winning the series in six games.
Everett Thompson's power play goal with 1:42 left in the second period held up as the winner for the Gold Miners. Thompson drove the Thunderbirds net and converted a backhand past goaltender Joel Horodziejczyk after taking a feed from Damon MacEachern late in the period.
Thompson's game winner game after the Thunderbirds tied the game at one midway through the second period on a Nicolas Tassone goal for the visitors at 10:47.
MacEachern had the other goal for Kirkland Lake in the win. Gold Miners goaltender Jeremy Pominville stopped 24 shots in the win.
Horodziejczyk stopped 24 shots for the Thunderbirds in the loss.
Kirkland Lake's Austin Rust was named the NOJHL playoff MVP.
The Gold Miners now advance to the Dudley Hewitt Cup, which kicks off on Apr. 29 in Wellington, Ont. The Gold Miners will face the host-Wellington Dukes on day one.
File photo by SooToday.com's Kenneth Armstrong
To check out SooToday.com's live blog of Tuesday's game, click here