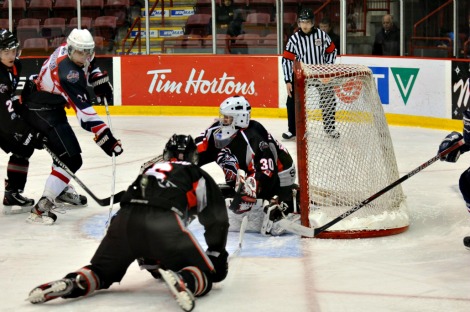 With a balanced schedule, the Soo Thunderbirds and North Bay Trappers have seen a lot more of each other this season and that has made the battle for top spot in the Northern Ontario Junior Hockey League tighter as well.
The Thunderbirds used a 3-2 win over the Trappers on Sunday afternoon at the Essar Centre to jump a point ahead of the Trappers in the standings in the fourth meeting of the season between the two clubs.
"It's been great," said Thunderbirds coach Warren LaVoy. "You've got two great clubs battling for something. They're doing everything they can to play the game properly and win. They're going out there to compete and to prove to each other that it's going to be a competitive series all around."
Said Trappers coach Tom McCarthy: "It's a treat to play (the Thunderbirds) because it's a measuring stick for your team. I'm sure they think the same way. At the same time, it started last year when we met with them in the playoffs. It's a good rivalry. We come here to beat them and I know they come to our arena to beat us. They're usually pretty darn good games."
Brandon Warmington and Darcy Casola led the way for the Thunderbirds with a goal and an assist offensively while Adam Ritchie's second period goal held up the winner. Goaltender Joel Horodziejczyk stopped 21 shots.
'(Joel) played fairly well," LaVoy said. "He had a lot of traffic in tight. It was the first time he played against North Bay so he was pretty excited. Overall, he certainly kept us in the game."
Brennen Dubchak and Justin Schneeberger scored for North Bay in the loss while goaltender Greg Dodds stopped 11 shots before being ejected following the second period for arguing calls with the referees. Dustin Hummel stopped all eight shots he faced in the third period.
"We didn't really come out of the chute very well," said McCarthy. "We made three small errors (in the first two periods) that cost us every time. When that happens you get a little deflated and you lose your enthusiasm. We adjusted pretty well and our bench got a little shorter as the game went on for different reasons. I felt we dominated a little more in the third period and had a little more pressure up the ice. We were a little more committed to our game."
With the win , the Thunderbirds are in top spot in the NOJHL standings with a 13-1-1-2 record in 17 games. The Trappers are one point behind the Thunderbirds with a 12-2-2-2 record in 18 games.
Photo courtesy Jim Egan
****
OTHER SCORES
In Iroquois Falls, Brandon Windsor scored three times while Kevin Walker had four assists as the Abitibi Eskimos beat the Sudbury Nickel Barons 8-5. Richard Therrien had two goals and two assists while Peter Poulin-Roy added two goals and an assist. Sebastien Leroux scored a pair of goals for Sudbury.