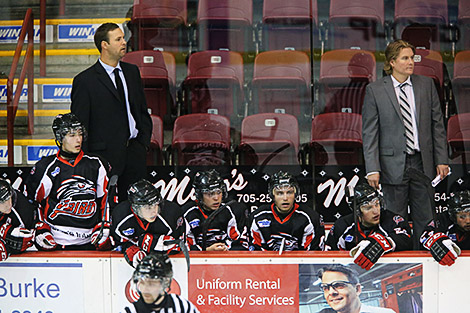 The end of the Northern Ontario Junior Hockey League season for the Soo Thunderbirds wasn't what the team had hoped.
A six-game loss in the NOJHL final to the Kirkland Lake Gold Miners ended the Thunderbirds hopes of a second-straight berth in the Dudley Hewitt Cup.
Having had an opportunity to let the disappointment settle in, Thunderbirds coach Jordan Smith was pleased with the 2013-14 season overall.
"It was a great season," Smith said. "Now that the wounds have healed, looking back on it, it was very positive. What really stands out to me was, when Ryan (Maunu), Marty (Fortino) and I came on, we essentially changed the culture of the team. It's hard to expect to go from where they were at, despite having a successful season. A lot of things had to change. Winning would have been the cherry on the top."
Smith credited the players for helping make that change.
"What the veterans did here, and even the young guys too, the way they changed the face of things was really positive," said Smith. "As coaches, we were very proud and I told them that after losing in Kirkland Lake. I can't say a bad thing about any one of them."
"They've set the standard not moving forward," Smith also said. "To start next year, I get excited because I won't have to do as much. The older guys will know the standards and the expectation being set and that comes back to the culture change."
Smith said the playoff experience in their run to the NOJHL final will go a long way in helping the team in the future.
"You have to have the young guys," Smith said of the youth. "You've got to have the guys that have been through it. They've learned from the good veteran leadership that we've had. We can return seven 20-year-olds and those guys will be in charge of setting the tone for the younger guys in making sure that what they started to build here carries over into next year."
****
THUNDERBIRDS SEASON AT A GLANCE
Regular Season Record: 48-5-1-2, 99 points, 245 goals for, 102 goals against
Regular Season Leaders: Goals – Gavin Burbach (48); Assists – Darcy Haines (44); Points – Gavin Burbach (87)
Playoffs: Round 1 – Beat Blind River 4-1; Round 2 – Beat Abitibi 4-0; Round 3 – Lost to Kirkland Lake 4-2
Playoff Leaders: Goals – Darcy Haines (8); Assists – Owen Headrick (11); Points – Darcy Haines (18)
File photo by SooToday.com's Kenneth Armstrong