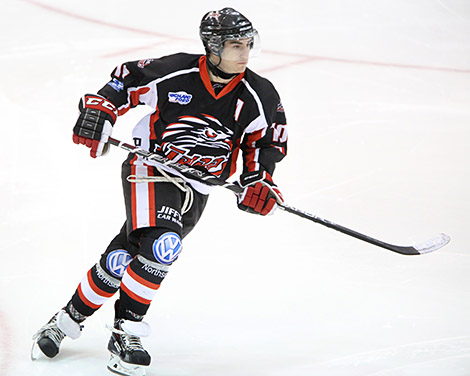 The Soo Thunderbirds kicked off the second round of the Northern Ontario Junior Hockey League playoffs on Saturday night at the Essar Centre.
The Thunderbirds took the semi-final opener with a 5-4 win over the Abitibi Eskimos Saturday night.
The Thunderbirds jumped out to a 3-0 lead in the first period as Anthony Miller, Nicolas Tassone and Erick Hillock scored 1:03 apart.
Abitibi would get on the board as Brenden Locke scored at the 13-minute mark to make it 3-1 though Matt Mitchell would score 21 seconds later to restore the three-goal Thunderbirds lead.
A pair of goals by the Zach Innes and Landon Hiebert would send the game into the second period with the Thunderbirds leading 4-3.
Hiebert would tie the game at four in the second period with a power play marker before Gavin Burbach potted a shorthanded goal in the final minute of the frame which would be the eventual game-winner.
Owen Headrick chipped in with a pair of assists for the Thunderbirds in the win while goaltender Brian Kment stopped 18 shots for the locals.
Hiebert had two goals and an assist for Abitibi in the game one loss. Brody Wagner made 35 saves for the Eskimos.
Game two of the series is Sunday night at the Essar Centre.
In the other NOJHL semi-final, the Kirkland Lake Gold Miners took a 1-0 series lead on Friday night with a 2-1 win on home-ice over the Espanola Rivermen. Damon MacEachern had the game-winner for Kirkland Lake while Tanner Lafrance also scored in the win. J.T. Walters scored for Espanola in the loss. Game two is set for Sunday night in Espanola.
File photo of Thunderbirds forward Gavin Burbach by SooToday.com's Kenneth Armstrong