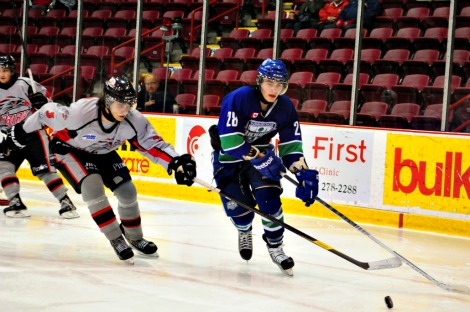 Soo Thunderbirds coach Warren LaVoy was blunt following his teams' 3-2 loss to the Sudbury Nickel Barons at the Essar Centre on Friday night in Northern Ontario Junior Hockey League action.
A team that has struggled to find a consistent effort at times during the season, the Thunderbirds fell behind 2-0 in the second period and never recovered in the loss.
"There was no enthusiasm, no excitement from any of the guys," said LaVoy. "I was disappointed in much of the play tonight."
"It's frustrating," LaVoy added. "We've had a lot of talks and a lot of meetings. There are flashes of brilliance out there and then there isn't and that's disappointing."
Dallas McLaughlin scored the lone goal for the Thunderbirds while goaltender Joel Horodziejczyk stopped 20 shots.
LaVoy struggled to find a bright spot in the loss.
"You know what? I'm going to say there wasn't anybody that stood out," said LaVoy. "There were some good plays, some good hits and some opportunities provided by good plays but overall there was no gold star tonight."
Andre Comtois, Cory Vaillancourt and Martin Jolicoeur scored for Sudbury in the win. Goaltender Alex Laino stopped 23 shots.
The loss drops the Thunderbirds record to 19-5-3-2. They remain one point up on the North Bay Trappers in the NOJHL standings though the Trappers hold a pair of games in hand.
The Thunderbirds return to action on Saturday night in Blind River in their final game before the Christmas break.
Photo courtesy Jim Egan