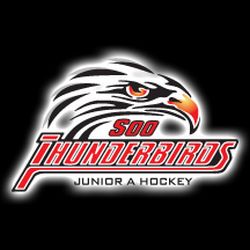 The Soo Thunderbirds enter the Christmas break on a sour note after a short road trip to Blind River on Saturday night.
Just 24 hours after dropping a 3-2 decision to the Sudbury Nickel Barons at the Essar Centre, the Thunderbirds travelled to Blind River and dropped a 4-3 decision in double overtime to the Beavers in Northern Ontario Junior Hockey League action.
Brandon Bazinet scored with 30 seconds remaining in the second overtime period to give the Beavers the win.
Darcy Casola had two goals and an assist for the Thunderbirds in the loss while Matt Zalewski added a goal and an assist. Goaltender Joel Horodzeijczyk was busy, stopping 42 shots in the loss as the Beavers outshot the Thunderbirds 46-27.
Tyler Brown, Scott Marshall and Paul Muio also scored for Blind River while goaltender Aaron Cormier stopped 24 shots in the win.