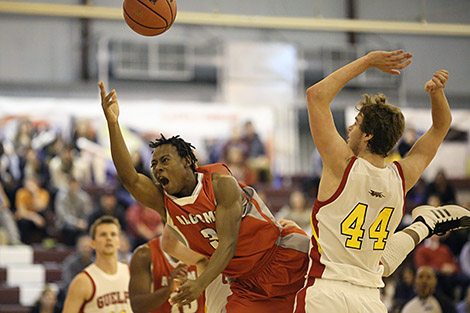 NEWS RELEASE
ALGOMA UNIVERSITY
*************************
SAULT STE. MARIE, ON - The Algoma Thunderbirds basketball teams continue the second half of their OUA season at home, with three games this week scheduled against OUA East Division teams, including the Laurentian Voyageurs, the York Lions, and the Queen's Gaels.
The women's games start at 6:00pm, followed by the men's at 8:00pm.
The busy week of OUA and CIS action begins against the Laurentian Voyageurs on Wednesday evening.
After last Wednesday's postponement due to inclement weather, the Thunderbirds will be looking to redeem themselves against the Voyageurs, who notched wins against both the men's and women's Thunderbirds late in November.
Both the men (3-8) and women (0-11) will need to improve their shooting if they are to defeat the Voyageurs, having shot only 23.3 and 31.2 percent respectively in their losing efforts.
Currently the Voyageurs stand at 7-4 (men) and 2-9 (women) in the East.
On Friday, the teams take on the York Lions.
The York men enter the weekend with a 3-9 record in the East after coming up short against the 4th-ranked Ryerson Rams on the weekend, losing 75-73.
In order to overcome their own losing slump, the Thunderbirds will need to rely upon shooters Reynaldo Carnakie and Terrell Campbell, who lead the Thunderbirds in points averaged per game.
The women's Lions improved their record with two wins last weekend over the Ryerson Rams and Toronto Varsity Blues to move to 3-7.
The Algoma squad will need to continue to be physical and aggressive in order to prevent the Lions from notching their third consecutive win.
The Thunderbirds will also rely upon rookie Sydney Resch, who put up a combined 35 points against the Ottawa Gee-Gees and Carleton Ravens last weekend.
On Saturday, the Thunderbirds face the Queen's Gaels.
The men's Gaels improved their record to 7-5 last weekend with a win against the Toronto Varsity Blues.
The Thunderbirds will need to stop the attack of Greg Faulkner, who led the Gaels with a game-high 37 points.
The women's Gaels (7-5) have fallen into a slump, losing two consecutive games this past weekend to the Toronto Varsity Blues and Ryerson Rams.
The Algoma team will need to pressure the basketball in order to force turnovers, which the Gaels' did 20 times in their game against the ­­Blues.
About Algoma University
Algoma University offers a wide variety of liberal arts and sciences degree options including programs in Psychology, Social Work, Computer Science, Business Administration, Fine Arts, Community Economic & Social Development, and Biology in Sault Ste. Marie, Brampton, Timmins and St. Thomas.
As a partner with Shingwauk Kinoomaage Gamig, Algoma U is committed to respecting Anishinaabe knowledge and culture.
Algoma University has launched its Essential Elements Campaign to expand its campus and offer more scholarships and awards to students. To learn more, visit www.algomau.ca.