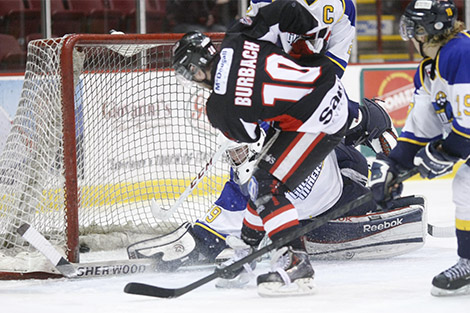 Having lost three-straight for just the second time all season, the Soo Thunderbirds made sure that the streak didn't extend on Sunday night.
The Thunderbirds climbed back into the Northern Ontario Junior Hockey League final with a 5-1 win over the Kirkland Lake Gold Miners in game five of the league championship at the Essar Centre.
The Gold Miners continue to lead the series as it shifts back to Kirkland Lake on Tuesday for game six as they lead the series 3-2.
Despite a scoreless opening period, the Thunderbirds opened up a shot edge early on, outshooting the Gold Miners 14-5 in the first period, which included a string of nearly 11 minutes to start the game in which Kirkland Lake didn't register a shot on goal.
"I was happy with the way we started the game and I was happy with the way we maintained that work ethic," said Thunderbirds coach Jordan Smith. "Our puck pursuit was really good tonight and we minimized our mistakes and finally got rewarded for our hard work."
Darcy Haines led the way offensively for the Thunderbirds with a goal and three assists. Anthony Miller chipped in with a goal and an assist while Anthony Butorac also had a two-point night with a pair of assists. Medric Mercier, Gavin Bubrach and Joey Miller also scored in the win.
Goaltender Joel Horodziejczyk stopped 16 shots for the Thunderbirds.
Jeremy Pominville made 27 saves for the Gold Miners while Dan Morin had the lone goal in the loss.
"I don't' want to forget this game," said Kirkland Lake coach Marc Lafleur. "I told the players that you still have to learn from this. We've got a hungry team on the other side and we've got to get just as hungry, if not hungrier."
A win in Kirkland Lake on Tuesday night would force a game seven in Sault Ste. Marie on Thursday night at the Essar Centre.
(PHOTO: Soo Thunderbirds player Gavin Bubrach scores during the 2nd period of game 5, played April 20, 2014 at the Essar Centre in Sault Ste. Marie. SooToday.com/Kenneth Armstrong)