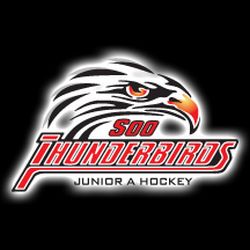 After dealing goaltender Joel Horodziejczyk to the Pembroke Lumber Kings earlier this summer following a trade request from the reigning Northern Ontario Junior Hockey League MVP, the Soo Thunderbirds are in the process of dealing two more players following trade requests.
Reports surfaced on Sunday that the Thunderbirds received trade requests from defenceman David Radke and forward Joey Miller.
Radke logged heavy minutes with the Thunderbirds during the 2013-14 season where he posted three goals and 28 points in 54 games with the NOJHL's regular season champs. Radke had two goals and seven points in 15 games during the Thunderbirds playoff run, which came to an end at the hands of the Kirkland Lake Gold Miners in the NOJHL final.
Radke has played two seasons with the Thunderbirds, scoring three goals and 37 points in 90 career NOJHL games.
Miller had 20 goals and 45 points in 56 games with the Thunderbirds in 2013-14 before scoring three times and adding three assists in 15 playoff games.
Miller played two full seasons with the Thunderbirds, scoring 26 goals and 77 points in 98 games with the Thunderbirds after spending the previous two seasons with the Soo North Stars AAA Midgets.