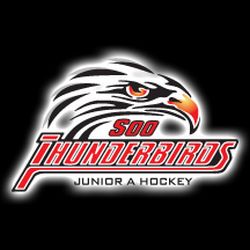 The Soo Thunderbirds rebounded after a playoff-opening loss on Sunday evening to even their best-of-seven playoff series with the Blind River Beavers at one.
The Thunderbirds beat the Beavers 3-2 in Blind River in Northern Ontario Junior Hockey League action on Sunday to give the team their first victory of the playoffs.
Game two saw the Thunderbirds open up a 2-0 lead in the opening period in similar fashion to the series opener.
In this case, Anthony Miller scores early in the third period to give the regular season champs a 3-0 lead. The Beavers would give the Thunderbirds a scare late in the final period when Alex Lewicki and Matt Zalewski scored 30 seconds apart but the Thunderbirds managed to hold on for the victory.
Gavin Burbach and Brett Jeffries also scored for the Thunderbirds in the win while goaltender Brian Kment got the start, stopping 17 Beavers shots.
Beavers goaltender Jessie Morin had another busy night. After stopping 34 shots in the series opener, Morin made 47 saves in game two for Blind River.
Game three is set for Thursday night in Sault Ste. Marie at the Essar Centre in a 7:30 p.m. start. Game four is Saturday night in Blind River with game five in Sault Ste. Marie on Sunday.