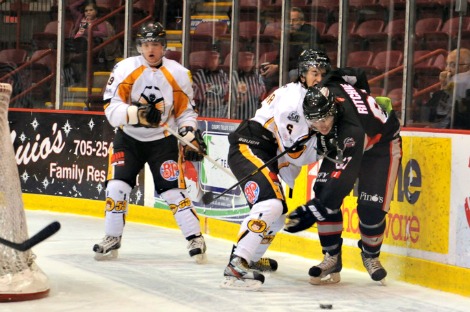 The Soo Thunderbirds moved back into first place in the Northern Ontario Junior Hockey League after action on Saturday night.
Thanks to a 3-1 win over the Abitibi Eskimos Saturday, the Thunderbirds moved one point ahead of the North Bay Trappers in the NOJHL standings.
Despite some consistency concerns early in the year, Thunderbirds coach Warren LaVoy has been pleased with the Thunderbirds consistency of late.
"The effort tonight by all of the guys was good," said LaVoy. "It's a relief to get back to playing that way. We've been a little more consistent for three periods."
Newly-acquired forward Yan Kalashnikov scored the game-winning goal for the Thunderbirds early in the second period after the two teams had traded goals in the opening frame. Saturday was Kalashnikov's second game with the Thunderbirds since being acquired from the Nipiwan Hawks of the Saskatchewan Junior League.
"Right away the boys bought into him," LaVoy said of Kalashnikov. "He's liked in the room. The way he's practiced, played and interacted with all of the players, it seems like he's been a regular (all year)."
Adam Ritchie and Brandon Warmington had a goal and an assist each for the Thunderbirds while goaltender Joel Horodziejczyk stopped 15 shots in the win.
Corey Dubbledam had the lone goal for the Eskimos while Jackson Winkler stopped 41 shots.
"I know it looks ugly that we gave up 44 shots but we stuck to our game-plan and I like that," said Abitibi coach Paul Gagne. "We competed and we know we can play better. It was encouraging. Sometimes you gain a lot more from a loss like this tonight."
The Thunderbirds hit the road for a three-game trip beginning on Dec. 14 when they are in Kirkland Lake to take on the Gold Miners. Next home action for the Thunderbirds is on Dec. 21 when they host the Sudbury Nickel Barons at the Essar Centre.
Photo courtesy JIm Egan