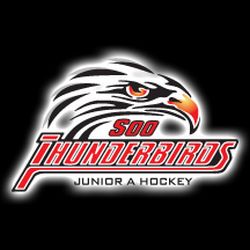 After two years away, Jamie Henderson is back with the Northern Ontario Junior Hockey League's Soo Thunderbirds.
The former assistant coach with the team who was suspended for off-ice incidents during the Thunderbirds run to a Dudley Hewitt Cup title during the 2011-12 season has been brought on by the team as their assistant general manager.
"I really don't even know how to describe (being back)," said Henderson on Friday evening. "I share a passion with Albert (Giommi) and (GM Kevin Cain). We had some good times and some tough times but to have a chance to come back to the team and learn a different side of it is a great opportunity."
In his new role with the organization, Henderson will focus on player registry, player promotion and community involvement. In his role as assistant general manager, Henderson hopes to be able to use some of what he has learned in his current role with Silver Creek Golf Club.
"I'm looking forward to working with Kevin and learning more of the behind the scenes side of it," Henderson said. "Obviously my role at Silver Creek and at Crimson Ridge with the business background that I have will hopefully help the team."
Henderson added he wouldn't be opposed to helping the Thunderbirds organization in any way needed.
"If the current staff and management want to pick my brain and learn from my experience, I'm more than happy to share it," he said.
Henderson looked back on his previous time with the organization as a learning experience after the way the time with the team ended.
"For the people that are close to me, they know how upset I was and how I wasn't thrilled with what happened before but you learn life lessons and you move on," Henderson said. "I'm happy to move on and learn new roles. I'm grateful for Albert and Kevin giving me another chance."
On the flip side, Henderson was appreciative of the support from former players as the Thunderbirds brought him on in his new role.
"We shared a lot of great times, there's no doubt about that," Henderson said. "We did something that that organization had never done before. That's something that none of us will soon forget. One of the best things has been talking to former players today (Friday). I've received a lot of messages from former players that are supportive and that means a lot."