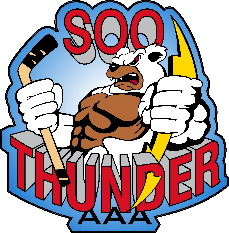 PRESS RELEASE
SOO THUNDER MINOR MIDGET
********************
The Soo Thunder Minor Midgets were in Peterborough this past weekend to compete in the AAA Minor Midget Classic. Their division was packed with high ranked teams as four of the five were ranked in the top 20 of the province.

In game one versus the Ottawa Senators, the Thunder spent most of the game in the Ottawa end but were only able to beat their goalie twice on goals by Adam McPhail and Owen Headrick. It was the Sens who were able to find the back of the Soo`s net four times giving them the 4-2 win.
Game two put the Soo up against the No. one ranked Oakville Rangers and after two fast-paced scoreless periods, a goal by Jason Uhl put the Thunder up 1-0. With 53 seconds to go a very questionable call against the Soo for delay of game allowed Oakville to go 6-on-4 and with 2.5 seconds to go and an Oakville player pushing the Thunder goalie into the net they were able to score and tie the game at one .

On day two, the Soo faced the Clarington Toros and despite playing the game with only three defencemen, the Thunder secured a 5-2 victory. Leading the Soo with two goals was Cole Lussier and singles went to Nick Sicoly, Adam McPhail, and Matthew Caruso .

Game four was a another Soo victory, 4-2 over the Toronto Red Wings. Goal scorers were Shane Zorzit ,Adam McPhail ,Jacob Palmerio and Matthew Caruso .

Despite not advancing to the semi-finals the play making, passing and team speed of the Thunder left quite an impression on the OHL scouts in attendance. Hats off to the players for a terrific weekend.
Next action for the Thunder is this weekend at home versus North Bay.
********************