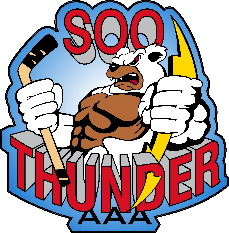 PRESS RELEASE
SOO THUNDER MINOR MIDGET
*********************
The Soo Thunder Minor Midgets jumped on the bus boxing day and headed to Toronto to attend the Marlies Holiday Classic along with 28 other minor midget teams from Ontario.

Play for the Thunder started on the 27th versus the Cambridge Hawks. Three goals from Nick Sicoly and one from Cole Lussier in the first period helped the Soo en route to a 7-1 victory. Adam McPhail , Matthew Caruso and Alex Morin also scored for the Thunder.
Later on that afternoon the Thunder faced off against the South Central Coyotes. All the goals were scored in the second period. Andrew Barbeau put the Soo on the board and a goal by Matthew Keenan late in the second held up to be the game winner of a 2-1 score giving them a 2-0 record on day one.

On the 28th a goal by Blake Speers was all the Thunder could muster in a 1-1 tie versus the North York Rangers.
In the afternoon was the match up all had anticipated and it showed by the crowd in the rink. The No. seven ranked Thunder versus the No. eight ranked London Knights with the Thunder needing a win or tie to advance. After a scoreless, fast paced first period, it was London on top 1-0 after two. In the middle of the third, goals by Frankie Pucci and Matthew Keenan put the Soo up 2-1 only to have London answer back with two goals and a 3-2 lead with five minutes to go. The game ended with London scoring in the empty net with six seconds to go, giving the Knights a 4-2 win and the division title.
Next action for the Thunder will be on Jan. 5th when they travel to Espanola to face the Nickel City Sons.  
*********************