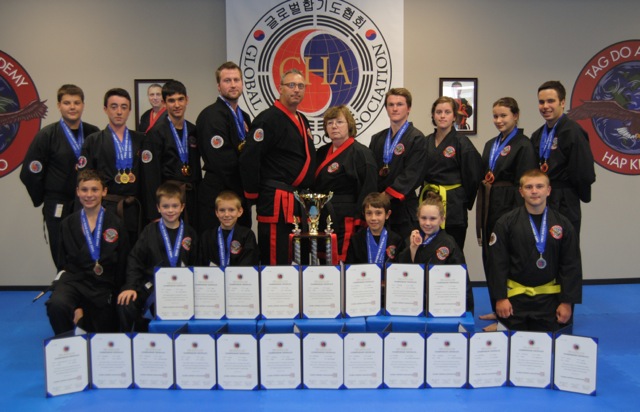 NEWS RELEASE
TAG DO ACADEMY
*************************
On July 26 and 27, 2014, Tag Do Academy attended the Global Hapkido Championship in Kalamazoo Michigan and swept the competition.
This year, the tournament took place at the Wings Stadium under the authority and direction of the Global Hapkido Association.
Representing the Sault Ste. Marie, Ontario based Tag Do Academy, all 18 students who competed brought home some serious hardware.
Every one of the competitors representing Tag Do Academy received a medal and stood among the top three competitors in every division from all over the world.
Representatives and fellow competitors came from Europe, Asia, South America, the U.S. and Canada. All competitors are governed by the Global Hapkido Association which stresses the importance of its core values, "Respect, Honor & Unity", through producing technically proficient martial artists who exemplify our core values and demonstrate the highest standards of global citizenship in the art of Hapkido.
Grand Master Frank Sacchetta lead his academy to a second year of enormous success from its new facilities offering the best the Soo has to offer for Hapkido training.
When asked what he was most proud of for his club, Grand Master Sacchetta answered, "The way our students represent this academy has earned us the highest reputation in competitions, and in both the Hapkido community as well as the community of Sault Ste. Marie. Every single one of our students understand what it means to wear the Global Hapkido badge on their uniforms. They abide by the way of respect in all aspects of their lives."
Grand Master Sacchetta has had the joy of teaching students who now sit alongside him teaching his classes as ranking black belts.
The sense of family and honour at Tag Do Academy is what has made them so successful, and has lead them to taking home the most medals in the most divisions of any other competitors in this year's Global Hapkido Championships.
Tag Do Academy has expanded and is currently enrolling new students for September 2014 for all ages and belt levels.
There are classes reserved for small children and also for adults who range from white belt beginners to Dan black belts.
New this year, are classes specializing in various techniques including: Private Lessons, Kick Boxing for Fitness, Women's Self Defense and Technique Training, Senior Citizen training, as well as Meditation. For more information, please visit
www.tagdoacademy.com
.
"Whether they are training, studying or are seasoned professionals in our community, people know us when they meet us. For that, I am the most proud," adds Grand Master Sacchetta. "We look forward to meeting new students for the upcoming year and welcoming back all of our champions."
2014 Global Hapkido Association Championship Results for Tag Do Academy
TOTAL COUNT
16 – GOLD
5 – SILVER
16 – BRONZE
Luke Dallaire (age 8-11 Group)
3rd Self Defense
Hunter Dini (age 12-14 Group)
1st Self-defense
2nd Empty Hand Forms
3rd Long Fall
Tanner Addison (age 8-10 Group)
2nd Self Defense
2nd Sparring
Mackenzie Wood- Salomon (age 12-17 Group)
3rd Self defense
3rd Weapons form
3rd Free Sparring
Jada Thornton (age 8-10 Group)
3rd Self Defense
Ethan St. John (age 12-14 Group)
1st Sparring
3rd Empty Hand Forms
Kevin Morin (age 12-14 Group)
1st Self Defense
1st Free Sparring
1st High Fall
1st Long Fall
2nd Weapons Forms
3rd Empty Hand Forms
Justin Finateri (age 12-14 Group)
1st Sparring
3rd Self Defense
Ben Vine (age 18 to 34 Dan Black)
1st Long fall
1st Sparring
3rd High fall
Riley Chambers (age 10 – 10 Group)
2nd Self Defense
Michael Vallercorsa (age 14 - 17 Dan Black)
3rd Self Defense
Lucas Maszczkiewicz (age 12-14 Dan Black)
3rd Self Defense
3rd Sparring
Tristan Sacchetta (age 12-14 Dan Black)
1st Sparring
3rd Self Defense
Lillian Barnes (age 12-14 Dan Black)
1st High Fall
1st Long Fall
1st Sparring
1st Empty Hand Forms
3rd Self Defense
Dillon Stewart (age 18 to 34 Dan Black)
1st High Fall
1st Sparring
3rd Long Fall