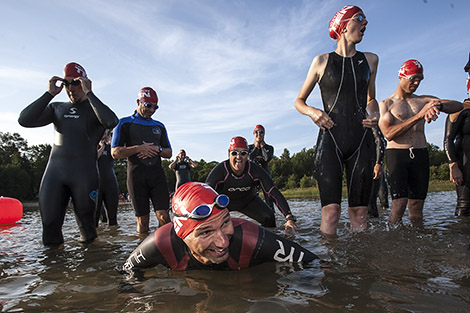 NEWS RELEASE
ST. JOSEPH ISLAND TRIATHLON
*************************
SAULT STE. MARIE - We are excited to announce that the St. Joseph Island Triathlon will be back for an 11th year this summer.
The event is scheduled for Saturday, August 16, 2014, and will again take place in Richards Landing, starting from the Women's Institute Beach.
The announcement earlier this year that the race was unable to continue generated a great deal of interest within the Sault Ste. Marie and St. Joseph Island communities to find a way to keep the event alive.
Several meetings over the spring have led to the formation of a new organizing committee, and the addition of several new volunteers who have stepped forward to ensure that the triathlon can continue to operate as a safe, fun, family-oriented event.
Sherri Smith, founder and former Race Director, will continue to support the race as a consultant to the new committee.
"Through this process I have realized that in order to survive, the Triathlon needs new and continued support from a larger group. The few very dedicated people who built this race needed to step aside in order for others to get involved, and I felt that for the good of the race it was time for me to do the same. Most importantly, I am happy to see the race continue on, and I look forward to enjoying it, albeit in a different way, this summer."
Bill Polnick and Eric Eddy will work together as race directors on the new organizing committee, while Kevin Hemsworth returns as director of marketing and communications for the event.
"We are obviously very excited to see the Triathlon back on the Island this summer," said Polnick. "The outpouring of support from the community made it obvious to us that this is an event that is important for both Sault Ste. Marie and St. Joseph Island. We are glad that we could work with the community of Richards Landing to keep this event alive, for this year and into the future."

Polnick suffers no illusions about the amount of work that goes into this event, having stepped into the race director role briefly in 2012.
"The experience in 2012 will help me immensely," said Polnick, who is hoping to lean on Smith less this time around.
"For so many years Sherri was the glue that held this race together. She will be impossible to replace. The Triathlon is a big event to organize, in order to ensure the safety of our competitors, and great racing conditions for them," he said. "We know that people love the event the way it is, so we won't be looking to change very much, but change is inevitable. We want our loyal participants to know that any changes we make will be done in the interest of the long-term stability of the event."
One thing Polnick knows he'll need is continued support from the many volunteers who have made helping out at the Triathlon a staple of their summer.
"The event is run entirely by volunteers so the more people that get involved, the better the event will be. A lot of people have pledged their support to keep the event alive, and we'll be counting on them in the coming months."
Anyone interested in helping out should email race@stjosephislandtriathlon.com.
Those looking to register for the event can do so at http://www.stjosephislandtriathlon.com/registration/
As for the athletes, Polnick only has one piece of advice.
"Get back to your training, as August 16th will be here before you know it. We can't wait to see everyone there again this year."
About the St. Joseph Island Triathlon
The St. Joseph Island Triathlon is held in beautiful Richards Landing on St. Joseph Island, near Sault Ste. Marie, Ontario.
The Triathlon is the premier multisport event in Northern Ontario. Last year participants came from as far away as New York City and Houston, Texas.
Adult athletes compete in Try-A-Tri, Sprint, and Olympic/International distance events in both Triathlon and Duathlon, individually or in relay teams.
Children as young as three years old have participated in the Kids of Steel races, in age categories that range from 3 and under up to 15.
*************************
File photo: Kenneth Armstrong/SooToday.com