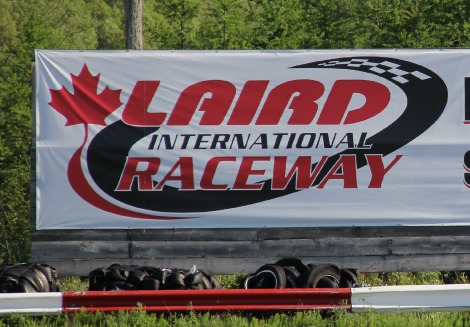 Laird International Raceway saw one of the biggest pots of the season handed out as drivers took to the track for week seven action on Thursday night.
The Laird Modified division?s 20-lap feature had an $800 pot for the first-place driver.
With the added pot, the top two drivers in the divisional points standings didn?t disappoint as Keenan Spurway took advantage of a late-race pass to beat Justin Jones for the feature win. Spurway entered action on Thursday leading Jones by seven points in the standings.
Jones took the lead in the feature on the fifth lap while Spurway battled from deep in the pack to move into second by the midway point of the race. Spurway would take advantage of his first opportunity to pass Jones on lap 16 and held onto top spot the rest of the way.
"He was playing it aggressive and smart and was going to try to get the inside and I was going to be stuck on the high side," Spurway said. "Jones had a good start to the race and I knew I was going to have to sit back and let everything pan out."
AJ Daniel finished third.
John Carter won the 14-car Factory Four feature race with Buddy Palahnuk finishing second and Rebecca Fewchuk took third.
In the Xtreme Four division, Jamie Wilson took the feature race with Damon Dubas finishing second and Chase Wilson finishing third.
Jason Praysner won the Factory Stock feature. John Ross was second and Jarrit Varcoe took third.
The Super Late Model division feature was postponed until next week after three of the five cars in the division on Thursday night were damaged after taking the green flag to start the feature race.
As the group was coming to the green flag, initially Jay Palumbo found himself off of turn one after car issues coming to the start line. With Palumbo off the track in turn one, Justin Jones and Dan Byrnes came together coming out of turn four, causing heavy damage to both cars.
The race was initially delayed with the intent of running it later in the race program but the extensive damage to the cars led track officials to postpone it for a week.
Action resumes at Laird on Aug. 14.
****
HEAT RACES
Factory Four A Heat : Shawn Greeley
Factory Four B Heat : Rebecca Fewchuk
Xtreme Four : Damon Dubas
Laird Modified : Kevin Oicle
Outlaw Modified : N/A
Factory Stock : JP DelPaggio
Super Late Model : Justin Jones
****
QUALIFYING
Factory Four : John Carter (18.132)
Xtreme Four : Chase Wilson (16.159)
Laird Modified : Keenan Spurway (14.811)
Outlaw Modified : N/A
Factory Stock : Jarrit Varcoe (16.057)
Super Late Model : Dan Byrnes (14.347)