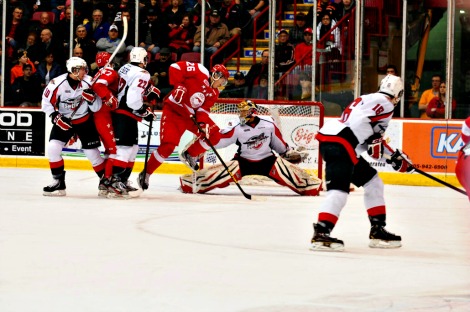 The Soo Greyhounds eight-game winning streak on home ice came to a halt on Friday night at the Essar Centre with just one shot.
Alexander Khokhlachev scored the shootout winner as the Windsor Spitfires beat the Soo Greyhounds 3-2 on Friday night in Ontario Hockey League action, ending a winning streak at home that dated back to Dec. 12.
The Greyhounds came out of the gate slow and had trouble recovering but were never completely out of the game after the slow start, which began when Remy Giftopoulos scored 58 seconds into the hockey game. Just 45 seconds later, Greyhounds goaltender Matt Murray, who was solid in the loss, was forced to turn aside Khokhlachev on a penalty shot.
Murray finished the night with 25 saves.
"We had some miscommunication there early between him and our defence but he settled in nicely," said Greyhounds coach Sheldon Keefe. "We were sloppy and made some mistakes and he made some big saves. Obviously if we get scored on on the penalty shot it could get ugly quick so that was big and he gave us a chance to win the shootout too."
Thanks to the Khokhlachev shootout winner, the Spitfires come away with something that's been hard to come by this season, a shootout win.
"It's been our nemesis all year," Windsor coach Bob Boughner said. "(Jaroslav) Pavelka came up big there. I was really iffy on who to go with there on the third shooter because Koko had already missed two (breakaways) earlier in the game. (Assistant coach Bob Jones) came up to me and said 'He can't miss three in a row, can he?' It was going to be (Khokhlachev) or Ho-Sang for me (as the third shooter)."
Brandon Alderson (shorthanded) and Jared McCann scored for the Greyhounds in the loss, which drops their record to 25-19-2-2 on the season.
"We weren't nearly where we needed to be," said Keefe. "You have to give Windsor some credit too. They're a much better hockey club and playing with more confidence. Even though we didn't play all that well, we had more than enough opportunity to win the game and play better than we did."
Keefe added that the importance of each game means being on top of your game night after night.
"We're not a good enough team to be off and win, that's the bottom line," said Keefe. "Every game is too important and every team is playing too hard for us to not be prepared to play."
Ben Johnson had the other goal for Windsor in the win. Goaltender Jaroslav Pavelka stopped 32 shots for the Spitfires.
"We made him work a little too much tonight," Boughner said. "He made some big saves. When he's on, he's one of our best players every night. He had a tough night (Thursday) but he bounced back tonight, which was good to see. We're a team that's banged up on the back-end and we need good goaltending and he's been giving it to us for the most part."
With the win, the Spitfires pull to within four points of the Saginaw Spirit in the OHL's Western Conference standings. The Greyhounds sit in seventh in the Western Conference, three points behind the Plymouth Whalers and Sarnia Sting, who are tied with 57 points each. The Sting faced and beat Plymouth on Friday.
The Greyhounds return to action on Saturday night when they host the Oshawa Generals in a 7:07 p.m. puck drop.
For full details from the Ontario Hockey League's other games, click here.
Photo courtesy Jim Egan