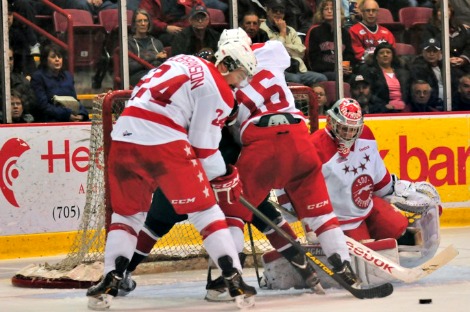 After what was their best game of the Ontario Hockey League season on Sunday night in a 9-2 win over the Sarnia Sting, the Soo Greyhounds returned to the ice on Wednesday with a good effort.
The only problem was that a pair of costly mistakes cost the team in a 4-3 overtime loss to the Saginaw Spirit at the Essar Centre.
Terry Trafford scored at 2:27 of overtime to give the Spirit the win. The Spirit battled back after falling behind 3-1 early in the third period.
"We made two mistakes and they ended up in the back of our net," said Greyhounds coach Mike Stapleton. "We played well. Probably well enough that we deserved to win but give (Saginaw) credit, they found a way to come back."
"Outside of the Sarnia game, I thought this was one of our better games," Stapleton added. "We just didn't capitalize in the third period on the chances we had."
Wednesday night marked the return to the Greyhounds lineup for defenceman Ryan Sproul, who missed 16 games due to injury. Sproul finished the night with a goal and an assist.
"I felt pretty good," said Sproul. "It was tiring for sure. The last goal was probably my fault, I should have had my guy there but I felt pretty good."
Andrew Fritsch led the offensive attack for the Greyhounds with a pair of goals while Nick Cousins chipped in with a pair of assists. Rookie goaltender Justin Nichols got his third straight start and stopped 28 shots. Veteran goaltender Matt Murray was in the lineup but is still suffering some lingering effects due to illness.
For Saginaw, Trafford had a pair of goals, his first two goals of the season, and an assist in the win.
"He's finally learning how to play to be quite honest," Gilbert said of the veteran forward. "He's starting to understand how to use his assets. His speed is unbelievable and you saw it on his first goal. He just took off down the wall. And on the second one, he's starting to understand and he's not just curling away now and he's being a little more direct in his game. He got the overtime winner because he pivoted and went back in front of the net, the puck came to him and he finished."
Vincent Trocheck added a goal and an assist while Justin Kea also scored for Saginaw. Goaltender Jake Paterson stopped 41 shots.
"Patter game up big for us," Gilbert said. "Lately he's been struggling. He's a mentally tough kid and he wanted to bounce back and prove himself and he definitely did that tonight."
Gilbert credited his team in the loss.
"We've come from behind before and our guys don't quit," said Gilbert. "They just keep battling and that's a real positive sign. It shows that there's character in that dressing room and they don't like losing. Being one of the youngest teams in the league, they just battle and compete. We have to clean up some areas and some of the mistakes we make but."
With the loss the Greyhounds record drops to 10-12-2-0 while Saginaw jumps a point ahead of the Greyhounds in the standings, improving to 10-12-2-1 in the process.
The Greyhounds leave Friday for a short two-game road trip that begins on Friday night in Sudbury.
OTHER SCORES: Guelph 8, Mississauga 0; Owen Sound 1, Barrie 0; Plymouth 3, Windsor 0
Photo courtesy Jim Egan