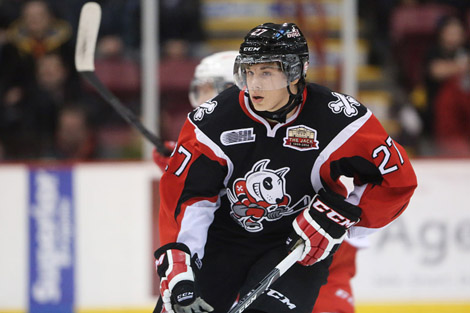 As rookie camps continue around the National Hockey League, Sault Ste. Marie native Cody Caron is preparing for one.
Caron, coming off his rookie season with the Ontario Hockey League's Niagara IceDogs, will attend the rookie camp of the Chicago Blackhawks, which kicks off on Sunday.
In his first season in Niagara after being drafted in the seventh round of the 2013 OHL Priority Selection, Caron had three goals and eight points along with 80 penalty minutes in 57 games.
The six-day camp features 26 free agents invites.
The Soo Greyhounds are well represented at NHL camps this month. As Jared McCann (Vancouver), Darnell Nurse (Edmonton), Tyler Ganly (Carolina), Kyle Jenkins (Carolina), Brandon Halverson (New York Rangers), Michael Bunting (Arizona) and Sergey Tolchinsky (Carolina) are with their respective NHL clubs, two graduates are also in camps.
Overage forward Tyler Gaudet is in the Arizona camp after signing a free agent deal with the Coyotes early last season while goaltender Matt Murray is expected to be in attendance at the Pittsburgh Penguins camp that begins next week.
A number of other Greyhounds are in camp as free agent invites including Charley Graaskamp (Anaheim), Alex Gudbranson (Minnesota), Dylan Corson (Montreal), Bryan Moore (New York Rangers) and Jean Dupuy (Winnipeg).
File photo SooToday.com/Kenneth Armstrong