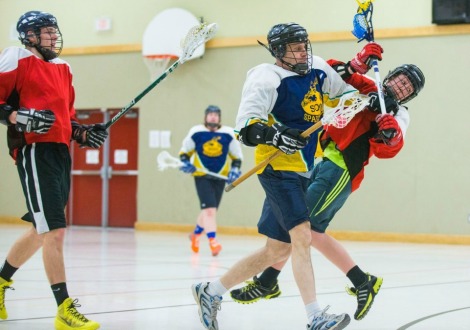 NEWS RELEASE
SOO LACROSSE CLUB
************************
Canada's National Summer sport is growing in the Sault. From its humble beginnings 10 years ago, it is expected that 30 teams will play this spring.
Soo Lacrosse Club president Glenn Hrynuik explains: "We have always only played on weeknights, because once hockey ends, and the weather turns nice, families like to have their weekends free. For the first nine years we played either at the Rankin or PeeWee arena Monday through Thursday from 6 p.m. to 11 p.m. Last year the number of players jumped from 300 to 400 so we had to schedule games on Friday nights. This year I think registrations will jump up again, so we are moving to two arenas full time and that way families can have weekends off again."
Growth is mostly in the younger divisions. Tykes and Novices will go from four teams per division to five or six this year. Players in these divisions only need a helmet, gloves and a lacrosse stick. This makes lacrosse a very inexpensive sport for new players to join. There has never been body contact in Tyke and Novice either, so there is no intimidation and the players have more fun.
"The atmosphere is much more relaxed, friends play on the same team, and players hang around the arena when they are not on the floor" says Glenn.
The Ladies division had four teams last year and will grow to two divisions in 2014. Female players from 15 to 50 can play recreational or competitive, or both. Registration is $60 for recreational and the only other thing you need is a lacrosse stick.
Also new in 2014 is a GIRLS-ONLY division for PeeWee and Bantam aged females.
"By the emails I got over the winter, the younger girls want to play full contact, so that is what they will do. Girls lacrosse is getting big in Southern Ontario and there are over 200 NCAA woman's lacrosse programs in the states." says Glenn.
On-line registration has already begun at www.soolacrosse.ca. Families can register in person and have questions answered this Saturday and next Saturday at the PeeWee arena, from 10 a.m. until 6 p.m. at the PeeWee arena.
For more information call Glenn Hrynuik at 705-942-2353.
************************