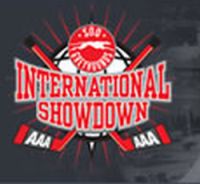 PRESS RELEASE
SOO GREYHOUNDS SHOWDOWN TOURNAMENT
********************
Semi Finals set for Sunday at the Soo Greyhound Showdown Tournament
Following round robin play at the 2012 Soo Greyhound International Showdown tournament the Soo North Stars continued their early season dominance posting a perfect 4-0 record to finish first in the seven team Midget AAA event.
Finishing second and third respectively were the Thunder Bay Kings and the Markham Waxers who will face each other Sunday morning at 8:30 at the John Rhodes Arena.
After winning their final round robin game the Michigan Nationals captured fourth place and will battle the Stars Sunday morning at 8:30 at the Essar Centre.
The final three teams will battle it out in the consolation side of the tournament with Belle Tire, Timmins and Marquette playing Sunday morning at the John Rhodes.
The final is set for 2pm at the Essar Centre with the semi final winners facing each other.
For further information and scores visit www.saultmajorhockey.ca.
********************