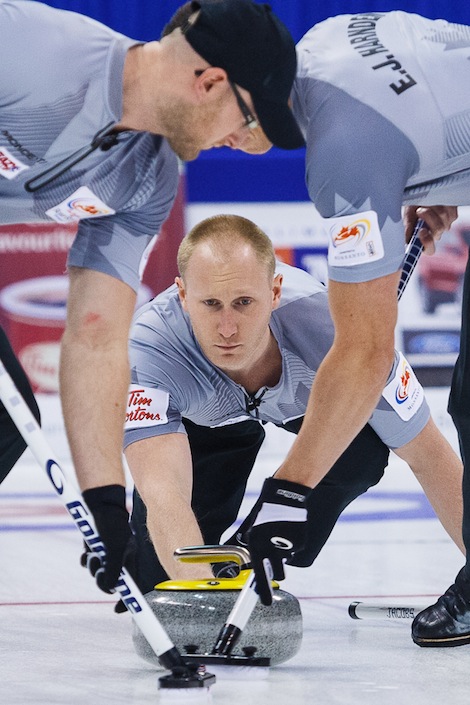 Employers around Sault Ste. Marie may be a little more forgiving if productivity goes down for a few hours on Wednesday morning.
At 10 a.m. Sault Ste. Marie's Brad Jacobs and his Team Canada mates will be competing for an opportunity to advance to the gold medal game in men's curling at the 2014 Winter Olympics in Sochi, Russia.
Jacobs will face China's Riu Lui in one of two semi-final games on the men's side Wednesday. Sweden's Niklas Edin will face Great Britain's David Murdoch in the other semi-final.
Murdoch needed a tie-breaker win to advance. The Murdoch rink defeated Norway's Thomas Ulsrud in a tie-breaker on Tuesday to advance. The two teams finished tied for the final playoff spot with identical 5-4 records.
Jacobs, third Ryan Fry, second E.J. Harnden and lead Ryan Harnden, opened the tournament with a 1-2 record through the first two days of action before reeling off six wins in a row to finish second in the round robin standings behind Sweden's Niklas Edin, who finished 8-1.
Liu's Chinese rink also finished the round robin 7-2.
Jacobs needed an extra end to defeat Liu 9-8 in the round robin.
The semi-final winners will play for gold on Friday at 8:30 a.m. ET. The bronze medal game is set for 3:30 a.m., also on Friday.
On the women's side, Canada's Jennifer Jones finished the round robin with a 9-0 record, becoming the first women's team to finish the Olympic round robin with a perfect record.
Jones will face Great Britain's Eve Muirhead at 5 a.m. Wednesday morning.
For those unable to watch Jacobs face China in the semi-final, SooToday.com will be running a live blog during the game and will have a post-game wrap later in the day
Full Jacobs Schedule
Feb. 10 vs. Germany (W 11-8); vs. Switzerland (L 5-4)
Feb. 11 vs. Sweden (L 7-6)
Feb. 12 vs. Russia (W 7-4)
Feb. 13 vs. Denmark (W 7-6)
Feb. 14 vs. Norway (W 10-4)
Feb. 15 vs. Great Britain (W 7-5)
Feb. 19 Semi-Final vs. China (10 a.m. ET)
Feb. 21 Bronze Medal Game (3:30 a.m. ET); Gold Medal Game (8:30 a.m. ET)
Standings
Sweden (Niklas Edin): 8-1
Canada (Brad Jacobs): 7-2
China (Rui Liu): 7-2
Great Britain (David Murdoch): 5-4
Norway (Thomas Ulsrud): 5-4
Denmark (Rasmus Stjerne): 4-5
Russia (Andrey Drozdov): 3-6
Switzerland (Sven Michel): 3-6
United States (John Shuster): 2-7
Germany (John Jahr): 1-8