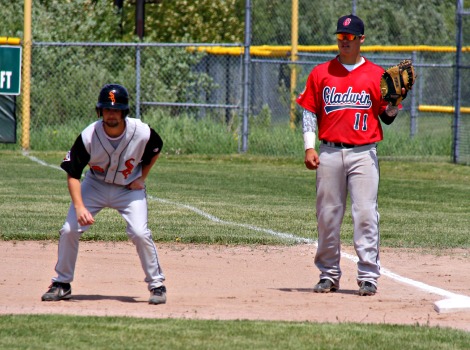 The semi-final matchups at the 20th annual Black Sox Invitational have been set.
The local entry, the Soo Black Sox will play in the early semi-final, beginning at 9 a.m. after splitting a pair of games on Saturday.
The Black Sox opened the day with a 9-0 loss to Gladwin.
Alex Valasek went 1-for-4 in the win, knocking in three runs in the process. Riley Bell went 3-for-4 for Gladwin while Dylan Brown and Drew Cassidy had two hits each in the win.
Gladwin pitcher Cameron Dice struck out seven in seven innings of work.
Colton Read had a double in the loss for the Black Sox while Connor Henderson, Adam Bouillion, Dom Buonomo and Zach Duchesne all had singles in the loss.
The locals then ended the round robin portion of the tournament with a 14-3 win over Team North.
The Black Sox opened up an early 5-0 lead with five runs in the opening inning. Brad Manson went four-for-four in the win, knocking in a pair of runs. Eric Thornton chipped in with three hits and knocked in three runs. Coty Anderson and Scott Morphet also knocked in three runs each as the Black Sox had 15 hits in the win.
Brock Barry struck out seven in four innings on the mound.
In the other games on Saturday, Gladwin beat the EUP Travelers 10-0 while EUP beat Team North 11-1.
The Black Sox will face the Travelers in the early semi-final with a 9 a.m. first pitch. The second game is scheduled to begin at 11:30 a.m. between Gladwin and Team North. The semi-final winners will meet in the championship game at 2 p.m.
For a full recap of day one, click here