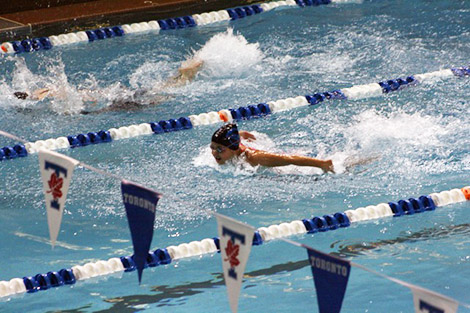 NEWS RELEASE
SAULT STE. MARIE
AQUATIC CLUB
*************************
Approximately 300 swimmers representing 15 swim clubs from the Northeastern Region of Ontario (NEOR) competed this past weekend at the 2014 Dave Kensi Championships.
At the conclusion of the three day event, Sault Ste. Marie Aquatic Club (SSMAC) finished in top spot with 899 points ahead of Sudbury Laurentian Swim Club (SLSC) with 884 points, Kirkland Lake Swim Club (KLAC) with 664.5 points and Timmins Marlins Swim Club (TMSC) with 591.5 points.
In addition to taking top spot, SSMAC swimmers took two individual high point awards and set two new club records.
Leading the way for SSMAC were Alex Gelmych and Paul Widgett.
Each swimmer, in their respective age groups, won seven events and were members of two gold medal relays that contributed to the team title.
In addition, Gelmych set a club record in the 13-14 year old 1500 meter freestyle while seventeen year old SSMAC swimmer, Steven Lee set a club record in the 50 meter breastroke, eclipsing a 13 year old record from Blaine Dolcetti.
Individual age group Dave Kensit Championships high point winners included, Madison Smith, KAP (ten and under, girls); Ryan Tom, NBYT (10 and under, boys); Megan
Tom, NBYT (11 and 12, girls); Everett Smith SLSC (11 and 12, boys); Nina Kucheran, SLSC (13-14, girls); Gelmych (13-14, boys); Cassandra Brousseau, KLAC (15 and over, girls); Widgett (15 and over, boys).

The month of February will include five remaining meets for the club.
The OMNI top fish meet is Sunday, 9th February, the Winter Provincial Festival, the Speedo Eastern Canadian Championships, the North Bay Y Invitational, and Age Group Provincial Championships.
The SSMAC coaching team including head coach Dan Stratton, wishes to thank the members of the SSMAC meet hosting team that did, for a second time this season, outstanding work in hosting the region and ensuring FAST performances and great competitive swimming experience.
*************************