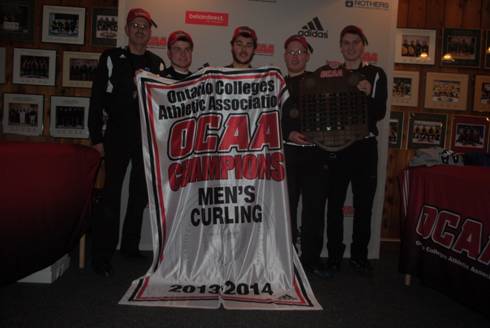 (Photo submitted by Robert Dugas)
NEWS RELEASE
SAULT COUGARS
*************************
Sunday was medal day at the 2014 OCAA Curling Championships at Soo Curlers, with nine teams all vying for the prize of provincial glory after a grueling championship tournament that began Wednesday.
In semi-final play three teams punched their tickets to the finals in men's, women's and mixed divisions.
The Niagara Knights (Cody Smith skip) took an extra end to defeat the Algonquin Thunder (Cassandra Lewin skip) 7-6 to secure their spot in the mixed final.
The Mohawk Mountaineers (Kendall Haymes skip) ran the Sault Cougars (Megan St. Amand skip) out of rocks in the eight ends in women's play to claim a final seed.
Defending champion Fanshawe Falcons (Kelly Schuh skip) were defeated by the Humber Hawks (Bob Meijer skip) 7-4 in eight ends to take the last final spot.
With the modified page playoff Algonquin, Sault and Fanshawe claimed OCAA Curling Bronze Medals.
In the mixed final, a closely contested game was broken wide open when Humber Hawks skip Kyle Mills made a double take out in the seventh end to take four on their way to a 8-2 victory over the Niagara Knights.
The win was the first OCAA Championship for Humber in 28 years in curling as they completed the championship undefeated while the Niagara Knights claim the Silver Medal.
The women's final was a bit of redemption as the two-time defending national champion Fanshawe Falcons led by skip Shannon Kee controlled the flow of the game to best Mohawk 7-4 in eight ends to claim OCAA Gold.
The championship win is something that eluded the Falcons the past 2 years as they claim their first women's title since 1988 while Mohawk captures OCAA Silver.
The last final of the day came down fittingly to the last rock thrown as the Sault Cougars Chris Glibota drew the four-foot as the packed house erupted to give the Cougars the Men's Championship over the Humber Hawks 5-4.
This marks the second title for the Cougars in three years for provincial Gold while Humber took the Silver.
Up next for the top teams are the Canadian Collegiate Athletic Association National Championship hosted by Sault College March 19-22 at the Soo Curlers Club.
For information on CCAA Nationals contact Sault College Athletics at athletics@saultcollege.ca.
*************************