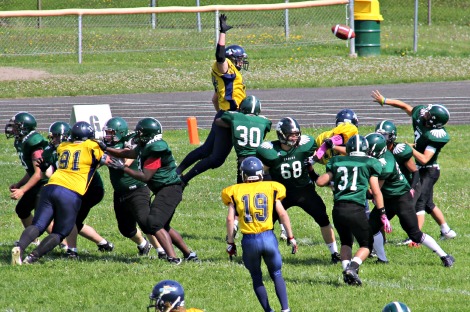 Saturday marked the home openers for both the junior varsity and varsity Sault Sabercats teams in Ontario Varsity Football League action.
The varsity team improved to 2-1 thanks to a 42-0 victory over the Etobicoke Eagles.
Jason Thibodeau scored a pair of rushing touchdowns, both on runs from one-yard out. Jeff Auger and David Toppan also had a pair of touchdowns each in the win. Auger caught touchdown passes from 15 and 13 yards out on passes from Nathan Elgie. Toppan caught touchdown passes from 20 and nine yards out in the win.
Justin Senecal chipped in with 138 yards rushing on 17 carries in the win.
Defensively, Ray Duplin had seven solo tackles and two assisted tackles for the Sabercats. Mitchell Stadnyk added five solo tackles.
In JV action, the Sabercats dropped a 29-15 decision to the Eagles.
Nick Roussain had 43 yards rushing on seven carries for the Sabercats while Hunter Belsito caught two passes for 53 yards and a touchdown. Quarterback Ryan Yost threw for 75 yards on six completions including the touchdown pass to Belsito.
Defensively, Hogan Lloyd had eight tackles and three assisted tackles. Mike Reid added six solo tackles, four assisted tackles and a sack. Adrian Torok had five solo tackles and three assisted tackles.
Both teams are back in action at home next weekend as they host the Mississauga Warriors.