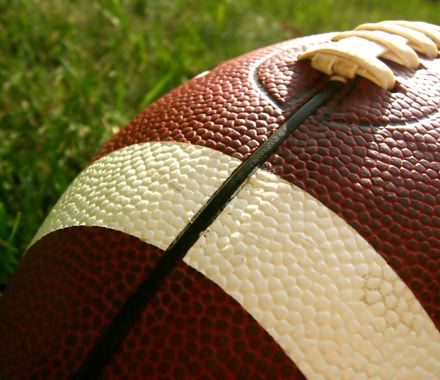 It was a tough day for the Sault Sabercats teams on Saturday evening at Rocky DiPietro Field.
Both the junior varsity and varsity teams were in action as they hosted the Mississauga Warriors in the second home games of the season for both squads.
In the early game, the junior varsity Sabercats fell behind early and couldn't recover in a 47-7 loss to Mississauga.
Jarret Litalien had the lone touchdown for the JV Sabercats, catching a pass from Ryan Yost and running it in for a 34-yard pass and run.
Tristan Marshall ran for 51 yards on six carris offensively for the Sabercats while Nick Roussain had nine carries for 46 yards.
Yost finished the day completing seven of 20 passes for 118 yards.
Defensively, Forrest Jones had three solo tackles and two assisted tackles.
Mississauga took a 13-0 lead in the opening quarter on touchdowns by Brandon Metz and Ajet Suljejmani. Suljejmani scored on a 94-yard pass and run in the late stages of the quarter. Metz had four touchdowns for Mississauga in the win. He scored on a one-yard run in the opening quarter, an 85-yard kick return in the second quarter and a 63-yard run in the third quarter. Metz also scored on a 75-yard punt return in the third quarter as well
Trey Bryden caught a pair of touchdown passes in the win (29 yards and five yards).
In the varsity game, the Warriors beat the Sabercats 35-20.
Trailing 7-6 late in the first half, the Sabercats gave up a touchdown in the final minute of the half to fall behind 14-6 and never quite recovered.
David Toppan had the second quarter touchdown for the Sabercats on an 11-yard touchdown catch from Nathan Elgie. Jason Thibodeau ran the ball in from one yard out in the third quarter while Toppan had a nine-yard touchdown catch in the fourth quarter from Elgie.
Elgie finished the day completing 17 of 33 passes for 235 yards, two touchdowns and two interceptions. Toppan had eight catches for 98 yards while Mitchell Mazzuca caught three passes for 50 yards. Justin Senecal ran for 122 yard on 13 rushes.
Trea Ivey had a patch of touchdowns for Mississauga in the win on a 29-yard catch and a 12-yard catch. Rochae Henry (47-yard catch),Nicholaus Sutherland-Barnes (one-yard run) and D'Saun Greenaway (24-yard catch) had the other touchdowns for Mississauga in the win.
With the losses, the JV team falls to 0-4 while the varsity team sits at 2-2.
Both teams enjoy a bye week next weekend before returning to action in London on June 28 when they face the Jr. Mustangs. Next home action for the two teams is on July 5 when they host the Halton Cowboys at Rocky DiPietro Field.