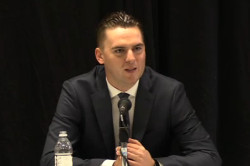 Kyle Raftis has officially been introduced as the new general manager of the Soo Greyhounds.
The 28-year-old former OHL defenceman was introduced at a press conference on Tuesday in which the Greyhounds also announced a contract extension for head coach Sheldon Keefe.
Raftis has agreed to a two-year contract with the club, which also includes a team option for a third season.
"It's been a pretty wild couple of weeks for me going through this process," Raftis said at Tuesday's conference.
"It came together pretty quickly but (the team) went through their due diligence on their side of things," Raftis said. "It was a process but it came together pretty quickly."
Raftis said the process got started after a phone conversation with former Greyhounds GM Kyle Dubas shortly after the latter had been hired by the NHL's Toronto Maple Leafs.
"It was moreso a call for congratulations," Raftis said. "It was an exciting time for him and I didn't think it was the place for me to dive into too much detail. It started from that conversation."
"As soon as we started talking about it and we started talking a little more in-depth about the organization, it seemed like a no-brainer that I wanted to hear more about it," Raftis added.
During his time with the OHL as their director of recruitment, education services and player development, Raftis said he had been impressed with the Greyhounds organization.
"Coming from the league, you see a lot of different ways of going about business," said Raftis. "Being an outsider at first and seeing how the Greyhounds go about their business, I could not be more thrilled to be a part of that process."
Though anticipating another season working at the OHL office, Raftis admitted that a management position was a future goal.
"It was always a goal for me to get into management," Raftis said. "A month ago I was more set on going back to the league for another year. I was in no rush to make a move at any time but at the same time if the right opportunity (came up), it was a no-brainer."
The recruitment aspect of his job with the OHL is something that has grown in recent years.
"Looking at the league in the last five years, (recruitment) is a huge part," Raftis said. "Getting to know a lot of the high-end players coming into the league and their families and what they're looking for, I've got a good understanding of that."
Keefe and Raftis were both a part of the recent Hockey Canada Under-17 camp.
"I got a sense of his demeanour through that process," Keefe said. "We've spent some significant time together both here and on the phone during this whole process. I'm very comfortable with him and I think he's going to be able to step in and still allow people to do their jobs and be comfortable doing so."
Raftis, a Toronto native, spent five years in the OHL, splitting 313 games with the Oshawa Generals, Kingston Frontenacs and Peterborough Petes before spending three seasons playing hockey and studying business management at Dalhousie University.
Watch at replay of LOCAL2's live coverage from this morning's press conference here.