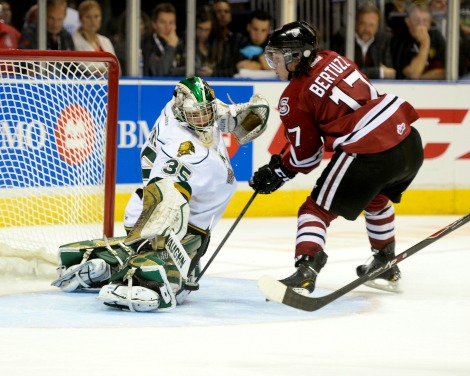 For London Knights goaltender Jake Patterson, things haven't been easy but he has been able to make the most of the hand he's been dealt.
The veteran Ontario Hockey League goaltender, a Sault Ste. Marie native, has found himself in a position where he's been a backup and thrust into action mid-game or forced to make a sting of starts due to injury or otherwise.
The 19-year-old, who just wrapped up his third experience of playing in the MasterCard Memorial Cup, said he treats all games the same way, whether he's starting or coming off the bench, though he admitted entering games cold can be tough.
"Being on the bench, you just want to try to support the guys and get them going," Patterson said. "If you get put in, you have to treat it like any game as if you were starting. For me, I prepare the same way if I'm on the bench or if I'm starting so it's not a big deal for me. I want to get in there and make the first save and build off that."
Knights assistant coach Jeff Paul credited Patterson for his ability to come into games late.
"He's been there all year for us and in that position he seems to excel," said Knights assistant coach Jeff Paul of Patterson's ability to enter games in relief. "It's tough on him sometimes having to go in late. He's a high-character young man and he relishes that chance."
"He's accepted that and he's been there when we've really needed him most," Paul added. "A lot of it comes down to his character. He works his tail off every day and the guys in the room have a lot of faith in him."
Patterson has been a part of all three Knights Memorial Cup teams over the past three seasons. In 2012 in Shawinigan, QC, Patterson was called up and served as the team's third goaltender behind Michael Houser and Tyson Teichmann on a Knights team that lost in overtime in the championship game to the host Shawinigan Cataractes of the Quebec League. Last season in Saskatoon, Patterson split the goaltending duties with current teammate Anthony Stolarz and managed to see action in four games as the Knights advanced to the semi-final where the lost to the Western League's Portland Winterhawks.
This season, Patterson came into a pair of games for the Knights in relief.
Patterson said the three tournaments have been very similar but there is an appreciation for playing in one on home ice.
"It's always nice to host an event like this and play in front of your fans," said Patterson. "It's nice to have some family come down and stay together as a team in the hotel."
"It's basically the same thing. We're hosting it but it's the same tournament," he also said Patterson. "There's maybe a little bit more pressure playing in front of our fans but it's fun."
Patterson told reporters that the Knights, who scored just four goals in three tournament games, all losses, couldn't afford to be frustrated during the event.
"If you get frustrated, it takes away from your game and you're not going to be doing the things you want to be doing on the ice," Patterson said of the Knights offensive struggles in the tournament. "You can't get frustrated, you just have to keep pushing."
Whether Patterson will return as an overage player for the Knights next season is up in the air but one thing is certain, the veteran is appreciated in the dressing room.
"He's very well-liked and with his work ethic, he leads by example," said Paul. "It says a lot about the kid to be thrust into these types of situations. He's been there for us for a few years now and we're thrilled to have him and we expect a lot out of him too. It's not easy but we feel he's got the mental strength and physical ability to get the job done."
****
FULL MEMORIAL CUP COVERAGE
Round-Robin Game 1 – May 16: Val-d'Or 1, London 0
Round-Robin Game 2 – May 17: Guelph 5, Edmonton 2
Round-Robin Game 3 – May 18: Edmonton 5, London 2
Round-Robin Game 4 – May 19: Guelph 6, Val-d'Or 3
Round-Robin Game 5 – May 20: Val-d'Or 4, Edmonton 3 (2OT)
Round-Robin Game 6 – May 21: Guelph 7, London 2
Semi-Final – May 23: Edmonton 4, Val-d'Or 3 (3OT)
Championship – May 25: Guelph vs. Edmonton
Photo by Aaron Bell/CHLImages