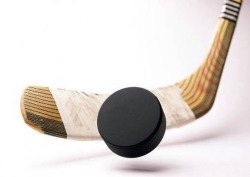 A sponsor's link to what Hockey Canada describes as an "outlaw" league threatens to put a halt to a series of exhibition games between the twin-Sault's Triple-A midget teams
Citing a Hockey Canada policy, the Northern Ontario Hockey Association may not allow a six-game exhibition series between the Soo Thunderbirds and the Michigan-based Soo Indians to take place, SooToday has learned.
"Jim (Capy, coach of the Thunderbirds) approached me and asked me if I would help pump up the rivalry," said Randy Russon, a sports journalist who runs HockeyNewsNorth.com. "I told him I would go one step further and donate a trophy (called the HockeyNewsNorth.com Cup). He was all for it and so was Mike Kaunisto from the Soo Indians."
The NOHA declined the request for the games by the Thunderbirds because Russon is involved with the new Canadian International Hockey League as their director of media communications, a position Russon said was purely volunteer.
Hockey Canada's policy regarding "outlaw" leagues, which are leagues that are not under the Hockey Canada umbrella, reads "Hockey Canada and its member Branches across the country will make every effort to ensure that local minor hockey and female hockey associations in areas where 'outlaw' leagues exist are not supporting these leagues in any manner whatsoever. For greater certainty, 'supporting' includes, but is not limited to, assisting an 'outlaw' league directly or indirectly through advertisement, promotion, ticket sales, volunteer activities, assigning officials, sharing resources or enabling such a league to participate in Hockey Canada sanctioned activities."
In an email, Thunderbirds owner Albert Giommi declined comment.
Russon said based on NOHA's decision he has decided to withdraw his support for the series, which was scheduled to begin Sept. 3.
"I don't want to ruin the series between the two teams," Russon said.
Russon was critical of the NOHA's decision.
"If the NOHA chooses to be so childish and small-minded in their approach to this, so be it," Russon said. "I feel sorry for an organization that says it's there for the kids to resort to such childish tactics because I happen to volunteer for a league that's not a part of their organization. Shame on them."