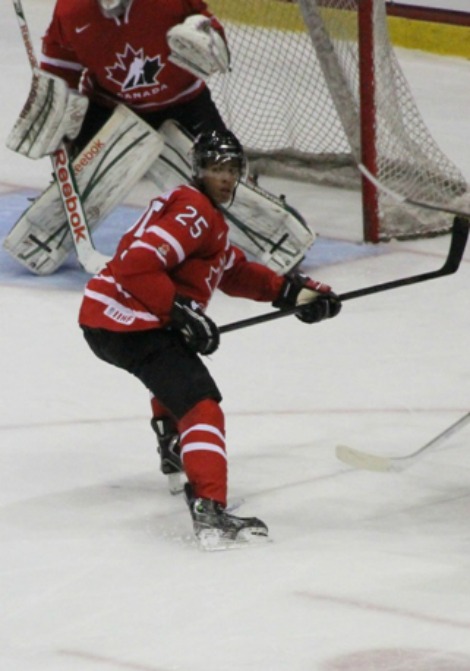 (Editor's Note: The following story and photo were filed by Chris Dawson, sports reporter for SooToday.com sister site BayToday.ca. Dawson is in Lake Placid, NY as the Canadian National Junior Team plays exhibition games as part of their development camp.)
LAKE PLACID, NY – If Darnell Nurse wants to make Team Canada's world junior team, he will have to keep his emotions in check.

The 6-foot-5 Soo Greyhounds blueliner took two penalties that put his club down 5-on-3 along with a misconduct giving him 14 minutes in penalties in his first game with Team Canada in their 7-3 win on Thursday over Team Sweden at the Team USA World Junior Evaluation Camp taking place in Lake Placid, New York this week.
"I just lost it a little bit," admitted Nurse in a post game interview about a nasty cross check he handed out near the Swedish bench that was followed by a few harsh words to the official which gave him a dozen minutes in the sin bin.
"I have to get my stick under control and that's what happens when you are a little fired up but it's good to get it out of the way, it's all out of me now, I don't think I have anymore of those left in me."
"The discipline part of it, he's a player that needs to play under control, manage his ice right, and you know he is going to be fine," noted Team Canada head coach Brent Sutter about Nurse's penalty issues during Canada's second victory at the Lake Placid event.
"He probably in his mind set probably had a little bit of a tough start for him but times when he was on the ice tonight I thought he was fine so again its just playing under control. At this level and this tournament you can't be undisciplined, you have to be smart you have to play the game the right way. He's a very caring player he just needs a little bit more awareness with certain things that he will recognize and get better at and again he's like everyone else he will be evaluated through the first half of the year too."

Penalties aside, Nurse was comfortable with his performance in his debut at the summer exhibition tournament which includes teams from Sweden, Finland and Team USA.
"I felt pretty good, I played pretty solid when I had the opportunities out there," said Nurse.
"It's hard to get adjusted to playing with these guys because they are all so gifted at the same time so you can make a simple play and they can turn it into a goal so I think that's the best thing about playing in these tournaments."
Nurse, 18, was the seventh overall selection in this year's National Hockey League Draft by the Edmonton Oilers after recording 41 points (12-29-41) and 116 penalty minutes in 68 games with the Hounds last year.
He spent most of his ice time along with former Team Canada Under-18 defensive partner Mathew Dumba as the two played well together last summer during Canada's Gold Medal victory at the Ivan Hlinka Tournament in the Czech Republic last August.

"I think we have a lot of chemistry," said Nurse.
"We've really clicked since the U-18's last year. We are great buddies off the ice. I think we both always know where we are and where we are going to be."
It's been an exciting few months for Nurse, who has taken high in the NHL draft, then named the captain of the Greyhounds while also being invited to Team Canada's World Junior Evaluation Camp.
Nurse believes getting the Hounds "C" was a big confidence boost when heading to an event full of superstars from the CHL ranks.
"When a team gives you that kind of trust to lead the unit I think its obviously a big honour for me to be the captain of a franchise with so much history," Nurse said.
"I am just going to do my best to be a great leader and lead every day on and off the ice. I am not going to change the way i am, I obviously got it for a reason but I've just got to stick to what I've always been taught and what has gotten me to this point."
Team Canada, which started with a 5-3 win on Wednesday over Team Finland - a game in which Nurse did not dress - will finish off the mini evaluation tournament on Saturday afternoon when they face the defending World Junior Gold Medal champion Americans.
Nurse is among 10 defenceman that were invited to the camp, which excludes potential returnees Griffin Reinhart and Morgan Riely who were not at the camp. Nurse will have to continue his strong play during the year while Team Canada evaluates him and the rest of the prospects this fall before naming the final team which will compete at the World Junior Championships this Christmas in Malmo, Sweden.