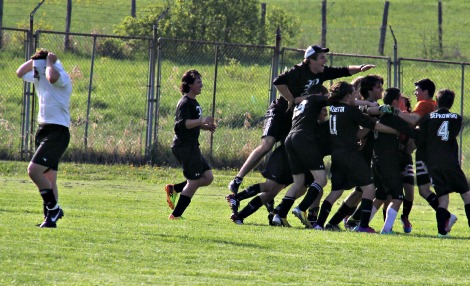 Though the two schools will become one following the 2014-15 school year, the rivalry between St. Basil and St. Mary's on the sporting field continued on Friday evening at Top Tipton Field.
The two schools faced each other in the championship game of the Northern Ontario Secondary School Association 'AA' Senior Boys Soccer tournament Friday, playing to a third one-goal game in the process.
After splitting a pair of games during the Sault high school soccer season, both by 2-1 scores, St. Basil beat St. Mary's 1-0 Friday to advance to the OFSAA championships, which begin on June 5.
"In the regular season they were both close, tight games," said St. Basil coach Richard Majic. "We expected another tight game. They're well-coached and they're a tough team. They've given us a tough time all year."
With a first-half marker, Mario Culina had the lone goal for St. Basil in Friday's win.
"It was just a good, solid play," Majic said of Culina's goal. "It was important to get the lead. It was a great cross by Chris Kramer and Mario just buried it. It was just a perfect play. A perfect cross and a perfect finish."
Netminder Brian Genua was perfect in goal with a pair of shutouts on Friday t help the Saints to the NOSSA title.
"Coming in we knew it was going to be a one-goal game," said St. Mary's coach Greg Guzzo. "They're a very well-coached team and they should be proud of themselves."
St. Basil advanced to the final after a 1-0 win over Confederation of Sudbury earlier in the day. Genua had the shutout in the win while Joey Bruni had the lone goal of the contest.
St. Mary's got to the NOSSA title game by way of a 3-2 win over Lockerby of Sudbury in the opening game of the tournament. Brandon Grandinetti had a pair of goals in the win while Antony Stefano also scored. The Knights Lockerby tying the game late, scoring in the final moments of the game for the win.
Jay Lemon and Julian Sadonik scored for Lockerby in the loss to St. Mary's.
In the senior girls final, the St. Mary's girls made it a clean sweep of the event for the city of Sault Ste. Marie as they beat St. Joseph-Scollard Hall of North Bay 6-0 to win the NOSSA title.
Martina Pulente had a pair of goals for St. Mary's while Megan Girardi posted the shutout in the win. Kristina Richer, Camille Irwin, Kailyn Paquette and Vanessa Rota also scored for St. Mary's in the win.
St. Mary's got to the final with a 2-0 win over Lockerby earlier in the day. Pulente had both goals for St. Mary's while Girardi had the shutout.
Scollard Hall got to the final with a 1-0 win over Korah.
(PHOTO: St. Basil players celebrate their 1-0 win over St. Mary's in the NOSSA 'AA' Senior Boys soccer final at Top Tipton Field)