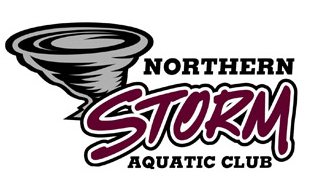 NEWS RELEASE

NORTHERN STORM
AQUATIC CLUB
*************************
The Northern Storm Aquatic Club (NSAC) stayed close to home this weekend to participate in the Dave Kensit Memorial Championship Short Course Meet held at the John Rhodes Aquatic Center.
The event was hosted by the Sault Ste. Marie Aquatic Club (SSMAC). The swim meet ran from Friday, January 31, 2014, through to Sunday, February 2, 2014.
Sixteen teams participated sending 275 swimmers to Sault Ste. Marie from across Northern Ontario. NSAC had 18 swimmers participate ranging in age from 8 to 16 years of age.
The team placed fifth out of the sixteen teams with a total of 484 points.
For their effort, NSAC swimmers were awarded 9 gold medals, 14 silver medals, and 19 bronze medals for individual events.
Of special note, the girls 11-12 year old 200 IM relay team, girls 11-12 year old 200 free relay team, and the girls 13-14 year old free relay team all took the gold medals in their races.
Desmond Wood-Anderson, aged 13 years, qualified for provincials/club nationals.
He personally was awarded two gold, one silver, and five bronze medals. Fourteen-year-old Danielle Morin was the second top achiever in the 13-14 year old girls category.
Danielle was individually awarded 5 gold, one silver, and three bronze medals.
Assistant Coach Toby Beynon stated enthusiastically that the team had "lots of great swims this weekend. Team spirit was great as swimmers not competing in the meet were poolside to cheer their teammates on."
Next up for the club is the Omni Top Fish meet in Valley East, Ontario, on Sunday, February 9, and Winter Festival in Brantford, Ontario, onFebruary 15 to 16, 2014.
*************************